Weight Distribution and Sway Control Recommendations for a 40 foot Terry Mobile Trailer Home
Question:
I now own a 40foot Terry Trailer home. When I picked it up and drove over 45 - 50 mph and a trackter trailer would go by she wanted to sway. I did have a load leveler hitch but not sway control. What would be the best choose for my pick up truck. 2002 chevy 2500 HD 4x4 to haul this beast? Thank You, not sure about weight at this writting by Id rather go heaver then lighter.
asked by: Dan
Expert Reply:
We carry two systems that are excellent at eliminating the type of trailer sway that you are describing. The Reese Strait-Line system that you referenced, # RP66130, would be a great choice. This system works to keep trailer sway from starting with a set of cams and detents in the spring bar ends. When turning the spring bar will move on the cam, but when traveling on the highway the spring bar will ride in the cam, forcing the trailer to stay straight. I added an installation video for this system for you to review.

To complete the Reese system you will need a hitch ball with a 1-1/4 inch shank like part # 63840.

The second system we have is the Equal-i-zer Weight Distribution System, # EQ90-00-1400, which has 4 point sway control, and uses metal on metal friction to control trailer sway. There are two points of friction in the weight distribution head and two points where the spring bars attach to the spring bar hangers. A local customer tried this system out recently and reported back to me that he likes this system just as well if not slightly better than his older Reese system. I added an installation video of the Equalizer system for you also.

To complete the Equal-i-zer system you will need the 2-1/4 inch long x 1-1/4 inch diameter shank hitch ball, EQ91-00-6140.

When selecting a weight distribution system you will need a system that has a tongue weight capacity range rated higher than your trailer tongue weight, fully loaded and ready to tow. Be sure to make provisions for the weight of any gear that you might load in the truck bed behind the rear axle because the weight distribution system will have to compensate for this added weight also. I added a link to an article we put together on weight distribution that you may find helpful.

Be sure when weighing your trailer that you stay within the vehicle and hitch weight ratings for towing.
expert reply by: Bob G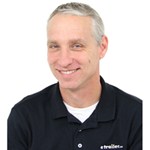 Have a question for the experts? click here.
Products Referenced in This Question
Hitch Ball with 2-5/16" Diameter and Medium Shank, 20,000 lbs GTW - Chrome





5 reviews
Retail: $24.76
Price: $21.95

Product Summary:
Hitch Ball
Standard Ball
20000 lbs GTW
Class V
Chrome

Product Specs:
2-3/4 Inch Shank Length
2-5/16 Inch Diameter Ball
1-1/4 Inch Diameter Shank

more information
Equal-i-zer Weight Distribution System w/ 4-Point Sway Control - 14,000 lbs GTW, 1,400 lbs TW
Retail: $870.00
Price: $649.95

Product Summary:
WD With Sway Control
Electric Brake Compatible
Surge Brake Compatible
1100 lbs
1200 lbs
1300 lbs
4-Point Friction
Trunnion-Style Bars

Product Specs:
Fits 2 Inch Hitch
Includes Shank
Up to 14000 lbs GTW

more information
2-5/16" Hitch Ball for Equal-i-zer Weight Distribution Systems - 14,000 lbs
Price: $24.95

Product Summary:
Weight Distribution
Replacement Parts

Product Specs:
Sway Control Parts
Ball

more information
Product Page this Question was Asked From
Strait-Line Weight Distribution w Sway Control - Trunnion Bar - 15,000 lbs GTW, 1,500 lbs TW





3 reviews
Retail: $939.70
Price: $535.96

Product Summary:
WD With Sway Control
Electric Brake Compatible
900 lbs
1000 lbs
1100 lbs
1200 lbs
1300 lbs
1400 lbs
Dual Cam
Trunnion-Style Bars

Product Specs:
Fits 2 Inch Hitch
Shank Not Included
Up to 15000 lbs GTW

more information
More Answers about Weight Distribution