Transmission Cooler Recommendation for a 2006 Chrysler Pacifica
Question:
I have a 2006 Pacifica 3.5 24valve with 110,000 miles. The car is in perfect condition and all maintenance is performed as needed and I have changed the oil every 3000 to 4000 miles since mile one. I now use Max life oil. I had a tow package installed and am pulling a trailer weighing 2800lbs empty, so I'm guessing that I tow 3000 to 3200. Would you recommend a Transmission cooling system and which one? I camp in SC, GA, and FL., so most of my driving is on level ground, no mountains.
asked by: Jim M
Expert Reply:
A transmission cooler is always a good idea if you are towing. Overheating is one of the biggest causes for transmission failure because your transmission relies on the transmission fluid to stay cool. The added stress from towing a trailer on the engine and transmission will cause the transmission fluid to heat up more than normal.

It is a good idea to get the largest transmission cooler possible because transmission fluid cannot be cooled too much, however, you will be limited by the amount of space that is available in front of your AC condenser or radiator.

The Derale Series 8000 Plate-Fin Transmission Cooler, # D13503, is a great idea for your 2006 Chrysler Pacifica. This cooler measures 11 inches wide x 8-3/4 inches tall x 7/8 inches deep. You will want to measure in front of your AC condenser or radiator to make sure you have room to fit this cooler.

This cooler uses an efficient plate-fin design that will prolong the life of your transmission and is Class III rated, meaning it is rated for up to 6,000 lbs.

I have attached two links to articles on transmission coolers as well as an installation video for you to check out. The vehicle in the video is different, but it will give you an idea how to install the cooler.

Our installer uses a compression fitting, # D13032, to install the hoses from the transmission cooler to the transmission cooler lines. Before beginning your installation, I would recommend that you find the location of your transmission lines and measure the outside diameter of the return line. It may be easier for you to cut the return line and install compression fittings depending on the location of the lines.

I have provided links to the 3 sizes of compression fittings that we carry.
expert reply by: John H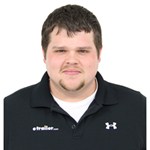 Have a question for the experts? click here.
Products Referenced in This Question
Derale Transmission Line Compression Fitting Kit - 5/16" Line to 3/8" NPT Barb





1 reviews
Retail: $19.77
Price: $12.99
Product Summary:
Transmission Coolers
Accessories
5/16 Inch Line

Product Specs:
3/8 Inch NPT Hose Barb
Flared Fittings

more information
Derale Transmission Line Compression Fitting Kit - 3/8" Line to 3/8" NPT Barb





1 reviews
Retail: $19.77
Price: $11.99
Product Summary:
Transmission Coolers
Accessories
3/8 Inch Line

Product Specs:
3/8 Inch NPT Hose Barb
Flared Fittings

more information
Product Page this Question was Asked From
Derale Series 8000 Plate-Fin Transmission Cooler Kit w/Barb Inlets - Class III - Efficient





61 reviews
Retail: $102.45
Price: $55.95
Product Summary:
Plate-Fin Cooler
With 11/32 Inch Hose Barb Inlets
Class III

Product Specs:
11W x 8-3/4T x 7/8D Inch
Standard Mount

more information
More Answers about Transmission Coolers