Transmission Cooler Recommendation for a 2004 Chevrolet Silverado 4.8L Towing a Travel Trailer
Question:
would a Derale Transmission Cooler #D13504 be what I need on my 2004 4.8L 1500 Chevrolet Silverado Regular cab, pulling a 6000Lb Travel trailer? Also need need correct fittings and extra hose. Thank you
asked by: Rocky
Expert Reply:
The Derale Series 8000 Plate-Fin Transmission Cooler, # D13504, would work great on your 2004 Chevrolet Silverado 4.8L when towing your 6,000 lb travel trailer. This transmission cooler has an efficient plate-fin design allowing you to use a smaller size transmission cooler without sacrificing performance.

This cooler does include a hose and universal adapter fitting, but if you would like a vehicle specific fitting you can use the Derale Snap-In Adapter Fitting for GM, # D13035, and if you need extra hose, then you can use the Derale High-Temperature Hose, # D13003.

I have attached two help articles on transmission coolers for you to check out as well as an installation video.

If it is easier during your installation to cut the transmission line, then you can use compression fittings to connect the rubber hose to the transmission line. This process is shown in the installation video at the 2 minute and 10 second mark.

I would recommend measuring the diameter of your transmission line going to the radiator and match that up with the proper compression fitting. The most common size is 3/8 inches, but it would be safe to measure first. I have attached links to the compression fittings that we carry, part # D13031, D13032, D13033.
expert reply by: John H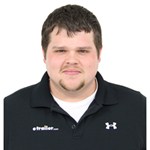 Have a question for the experts? click here.
Products Referenced in This Question
Derale High-Temperature Replacement Hose for Transmission Applications - 4' Long





1 reviews
Retail: $13.22
Price: $7.99
Derale Transmission Line Compression Fitting Kit - 5/16" Line to 3/8" NPT Barb





1 reviews
Retail: $19.77
Price: $12.99
Product Summary:
Transmission Coolers
Accessories
5/16 Inch Line

Product Specs:
3/8 Inch NPT Hose Barb
Flared Fittings

more information
Derale Transmission Line Compression Fitting Kit - 3/8" Line to 3/8" NPT Barb





1 reviews
Retail: $19.77
Price: $11.99
Product Summary:
Transmission Coolers
Accessories
3/8 Inch Line

Product Specs:
3/8 Inch NPT Hose Barb
Flared Fittings

more information
Derale Snap-In Radiator Adapter Fitting for GM





23 reviews
Retail: $14.12
Price: $9.99
Product Summary:
Transmission Coolers
Accessories

Product Specs:
Radiator Adapters

more information
Product Page this Question was Asked From
Derale Series 8000 Plate-Fin Transmission Cooler Kit w/Barb Inlets - Class IV - Efficient




19 reviews
Retail: $116.52
Price: $67.95
Product Summary:
Plate-Fin Cooler
With 11/32 Inch Hose Barb Inlets
Class IV

Product Specs:
11W x 12T x 7/8D Inch
Standard Mount

more information
More Answers about Transmission Coolers