Wiring, Base Plates, Tow Bar and Accessories Needed to Flat Tow a 1997 Ford Ranger
Question:
Do you have a wireing haness for 97 Ford Range REG. Cab sort bed.? Price and difficulty for install. I want to tow my Range behind my Motorhome it has a 4 wire plug Thanks
asked by: Paul
Expert Reply:
To flat tow your 1997 Ford Ranger behind a motor home, you will need a special wiring set up. A regular wiring harness will not work. There are a couple of options for you. First, if you will not be towing the truck very often, I recommend using a magnetic light kit like # C-ATL20A if the motor home has a 4-Way flat, or # RM-2100 if the motor home has a 4-Way round connector.

If you will be towing the truck frequently, I recommend a diode kit, # RM-154. I have included a link to a video that shows a typical installation of this kit for you.

Installation of a magnetic kit is simple as it is a plug and go type of installation. Diodes are a little more involved as you can see in the video. If you have some experience with automotive and/or electrical projects, installation should not be very difficult for you. Current pricing for all products is available on the product pages.

You will also need base plates for the truck. The base plates provide a safe and secure attachment point for a tow bar to tow the vehicle. For your truck you can use XL base plates, # 435-3. The most popular tow bar for XL base plates is the Roadmaster Falcon 2, # RM-520. I have included a link to the instructions and a link to a video on this tow bar for you.

For safety cables, you can use the coiled cables, # RM-643. The coiled design of these cables keeps them off of the ground.

Most states now require a supplemental braking system on the vehicle being flat towed. The easiest system to set up and use is the Even Brake # RM-9400. This is a proportional system that applies the vehicle brakes in proportion to how much the towing vehicle is braking. Proportional systems are the safest way to stop and they reduce wear and tear on both vehicles.

I have included a link to our series of FAQ articles on flat towing for you. You will want to consult the vehicle owners manual to determine if you can flat tow this vehicle and on the proper procedure for flat towing.
expert reply by: Michael H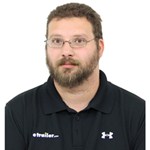 Have a question for the experts? click here.
Products Referenced in This Question
Roadmaster XL Base Plate Kit - Removable Arms





1 reviews
Retail: $429.95
Price: $399.00

Magnetic Towing Light Kit, 20 ft. Long Cord





9 reviews
Price: $41.95

Product Summary:
Bypasses Vehicle Wiring
Removable Tail Light Kit

Product Specs:
Universal
Magnetic Mount

more information
Roadmaster Universal Hy-Power Diode Wiring Kit





14 reviews
Retail: $97.14
Price: $74.95

Product Summary:
Splices into Vehicle Wiring
Diode Kit

Product Specs:
Universal
Tail Light Mount

more information
Roadmaster Deluxe Magnetic Tow Lights - 4-Pole Round Connectors





2 reviews
Retail: $104.11
Price: $87.95

Product Summary:
Bypasses Vehicle Wiring
Removable Tail Light Kit

Product Specs:
Universal
Magnetic Mount

more information
RoadMaster Falcon 2 Tow Bar - 6,000 lbs





9 reviews
Retail: $732.05
Price: $590.00

Product Summary:
Hitch Mount Style
Telescoping
Standard
Steel
6000 lbs

Product Specs:
Roadmaster EZ
Roadmaster MX
Roadmaster XL
Roadmaster Standard
Stores on RV

more information
Roadmaster Even Brake Portable Proportional Braking System





1 reviews
Retail: $1,555.60
Price: $1,249.00

Product Summary:
Brake Systems
Proportional System

Product Specs:
Portable System
Recurring Set-Up

more information
Product Page this Question was Asked From
Plug-N-Tow (R) Vehicle Wiring Harness with 4 Pole Trailer Connector





18 reviews
Price: $39.95

More Answers about Custom Fit Vehicle Wiring