Are Roadmaster EZ Style Base Plates Compatible with a Roadmaster Eagle 5000 Tow Bar 2011 Ford Edge
Question:
I have a 2011 ford edge with the adaptive cruise control. I also have a motor home mounted tow bar ,it is a roadmaster eagle 5000. te question is are the roadmaster tow adapters compatiable with this tow bar.
asked by: Mike J
Expert Reply:
First, you will want to consult the vehicle owners manual to determine if the vehicle can be towed and if there are any specific requirements to do so. I spoke with my contact at Roadmaster and he confirmed that the EZ base plates, # 524426-1, are compatible with the Eagle 5000 tow bar. The base plates will fit a 2011 Ford Edge with adaptive cruise control but not if it is an Eco Boost model.

The tow bar is also compatible with Roadmaster High-Low adapters like # RM-048-4.

In addition to the base plates and tow bar you will also need safety cables. I recommend the coiled cables, # RM-643. The coiled design helps keep the cables off of the ground.

For lighting, if you will be towing the vehicle often, you can use the diode kit, # RM-154. I have included a link to a video showing a typical installation. If the motor home has combined brake and turn signals, you will also need 2 additional diodes, # RM-792, and a tail light converter, # 118158, to wire the vehicle correctly. Not all vehicles require 2 extra diodes but the 2011 Ford Edge does. I have included a link to an FAQ that covers how to wire the diodes and converter.

If you do not want to wire in 2 extra diodes and use the converter, you can use a brake light relay, # RM-88400 instead.

If you will not be towing it frequently, a magnetic kit would be the way to go, # C-ATL20A.

Most states now require a supplemental braking system on the vehicle being towed. One of the easiest systems to set up and install is the Even Brake, # RM-9400. This is a proportional system that applies the vehicle brakes in proportion to how much the tow vehicle is braking for the safest stops and less wear and tear on both vehicles.

I have included a link to our series of FAQ articles on flat towing for you.
expert reply by: Michael H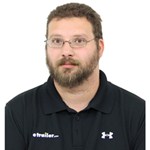 Have a question for the experts? click here.
Products Referenced in This Question
Vehicle to Vehicle Taillight Converter





14 reviews
Retail: $28.22
Price: $25.95
Product Summary:
Tow Bar Wiring
Accessories

Product Specs:
Converter
2-to-3 Converter

more information
Magnetic Towing Light Kit, 20 ft. Long Cord





9 reviews
Price: $41.95
Product Summary:
Bypasses Vehicle Wiring
Removable Tail Light Kit

Product Specs:
Universal
Magnetic Mount

more information
Roadmaster High-Low Hitch Adapter - 4" - 10,000 lbs GTW; 400 lbs TW





13 reviews
Retail: $110.77
Price: $94.95
Product Summary:
Tow Bars
Accessories
4 Inch Rise/Drop

Product Specs:
Hitch Adapter
High-Low Adapter

more information
Roadmaster Universal Hy-Power Diode Wiring Kit




17 reviews
Retail: $97.14
Price: $74.95
Product Summary:
Splices into Vehicle Wiring
Diode Kit

Product Specs:
Universal
Tail Light Mount

more information
RoadMaster 68" Single Hook, Coiled Safety Cables - 6,000 lbs





42 reviews
Retail: $60.63
Price: $45.95
Product Summary:
Tow Bars
Accessories
64 Inch Long
6000 lbs

Product Specs:
Coiled Cable
Safety Cables
Cables

more information
Roadmaster Hy-Power Diodes (Qty 2)





5 reviews
Retail: $25.42
Price: $20.00
Roadmaster Brake-Lite Relay Kit for Towed Vehicles





4 reviews
Retail: $35.39
Price: $27.33
Roadmaster Even Brake Portable Proportional Braking System





1 reviews
Retail: $1,555.60
Price: $1,249.00
Product Summary:
Brake Systems
Proportional System

Product Specs:
Portable System
Recurring Set-Up

more information
Product Page this Question was Asked From
Roadmaster EZ Base Plate Kit - Removable Arms





1 reviews
Retail: $429.95
Price: $399.00
More Answers about Base Plates