Trailer Hitch and Wheel Chair Carrier Recommendations for a 2008 Scion xB
Question:
I have a 2008 Scion XB. I need to transport my Dads electric wheelchair, which weight about 125 lbs. It was about to purchase the Class 2 1-1/4 hitch, a 2inch adapter, and a 6-inch folding cargo carrier. But then I saw that the 2inch adapter reduces the carry weight. What other options are there? Please help! I cant get my Dad around!
asked by: Andrew
Expert Reply:
I do have a couple of options for you. First, I recommend installing the available Class II trailer hitch from Curt, # 12490, on your 2008 Scion xB. This hitch has a 350 pound tongue weight capacity but you will also need to consult the vehicle owners manual for the capacity of the vehicle and go by the lower of the 2 ratings.

You could then use the Trailer Hitch Mounted Scooter / Wheel Chair Carrier, # RHWC1114. This carrier weighs about 90 pounds, so you have to subtract from the tongue weight capacity. That would leave you with 260 pounds you could carry on the carrier. Since the wheelchair weighs about 125 pounds, you should have enough capacity on the hitch to carry everything. But remember to check the vehicle capacity.

For this option, you will also need to use a stabilization strap for Curts warranty. The strap, # 18050, is designed to relieve some of the stress on the hitch with any non-trailer load such as a cargo carrier.

The next option is to use the same hitch and tow a small trailer. This option is the safest and will put the least amount of stress on the vehicle. For a trailer, you can use # UWT1. This trailer was designed specifically for situations like yours. You will also need a 2 inch ball, # 19258.

For this option, you will need trailer wiring, # 118468, to power the lights on the trailer. I have included links to the installation instructions for the hitch and wiring and a video for the hitch.
expert reply by: Michael H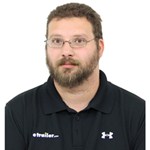 Have a question for the experts? click here.
Products Referenced in This Question
T-One Vehicle Wiring Harness with 4-Pole Flat Trailer Connector





6 reviews
Retail: $79.16
Price: $58.95

Curt Trailer Hitch Support Strap - Bike Rack Strap with Cambuckle




21 reviews
Retail: $14.72
Price: $8.83

Product Summary:
Hitch Bike Racks
Replacement Parts

Product Specs:
Cradle and Arm Parts
Straps

more information
Hitch Ball with 2" Diameter and Short Shank, 3,500 lbs GTW - Chrome





107 reviews
Retail: $8.59
Price: $6.49

Product Summary:
Hitch Ball
Standard Ball
3500 lbs GTW
Class II
Chrome

Product Specs:
1-9/16 Inch Shank Length
2 Inch Diameter Ball
3/4 Inch Diameter Shank

more information
Curt Trailer Hitch Receiver - Custom Fit - Class II - 1-1/4"





21 reviews
Retail: $271.51
Price: $162.90

Product Summary:
Custom Fit Hitch
Class II
Concealed Cross Tube
350 lbs TW
3500 lbs GTW

Product Specs:
1-1/4 Inch Hitch

more information
Trailer Hitch Mounted Scooter / Wheel Chair Carrier for 1-1/4" Trailer Hitches





1 reviews
Retail: $719.00
Price: $699.95

Product Summary:
Carrier with Ramp
Lowering Carrier
Fiberglass
230 lbs
28 x 48 Inch

Product Specs:
9.3 Square Feet
Fits 1-1/4 Inch Hitch
Class 2

more information
Magneta Wheelchair and Electric Scooter Trailer with Spring Axle - 8" Wheels/Tires - 1,200 lbs
Price: $1,749.95

Product Summary:
Wheelchair Trailer
Electric Scooter Trailer
11-1/2 Feet Long
1200 lbs

Product Specs:
2 Inch Ball Coupler

more information
Product Page this Question was Asked From
32x48 Pro Series Steel Solo Cargo Carrier and Folding Ramp for 2" Hitches - 400 lbs




8 reviews
Retail: $441.72
Price: $289.74

Product Summary:
Carrier with Ramp
Fixed Carrier
Steel
400 lbs
31-3/4 x 47-3/4 Inch

Product Specs:
10.7 Square Feet
Fits 2 Inch Hitch
Class 3

more information
More Answers about Hitch Cargo Carrier