Is a Brake Controller Plug and Play Wiring Harness Available for a 2003 Mercedes ML 350
Question:
I have a factory installed tow package to include a 7 pin. Will this brake controller plug and play into the vehicle or do I need some type of harness? Thanks
asked by: Ricky
Expert Reply:
There is not an aftermarket plug and play brake controller wiring connector available for the 2003 Mercedes ML 350. You may be able to purchase one from the vehicle dealer though.

I spoke with my contact at Tekonsha and his advice is that you should take your Mercedes M Class vehicle to the dealer to have a brake controller installed. The Mercedes vehicles have very sensitive wiring and splicing into the brake circuit or power on the vehicle can cause issues.

If you have wiring experience and are familiar with the use of a circuit tester, you could install a brake controller like the Prodigy P2, # 90885. Find the stop light switch circuit under the dash that is hot only when the brake pedal is pressed. Once that circuit is located splice the red wire from the brake controller to it. Then, run an appropriate length of 10 gauge double bonded wire, # 10-2-1, to the vehicle battery, and install a 30 amp circuit breaker, # PK54530, inline on the power wire. This will power the brake controller and provide an appropriate ground. Finally you will need to run a brake output wire, # 10-1-1, to the back of the vehicle from the blue wire on the brake controller. You will have to locate the brake output wire going into the 7-Way connector and sever it. Tape off the vehicle side of this wire and splice the brake output wire you just ran to the wire going into the connector.

If you decide that you do not want to hard wire a brake controller because of your vehicles sensitive circuitry, we have another option that you could go with. The Tekonsha Prodigy RF Brake Controller, # 90250, mounts on the trailer and only requires a 12 volt power outlet in the cab, for the remote unit, and the 12 volt hot lead, left and right brake and turn signals at the trailer connector.
expert reply by: Bob G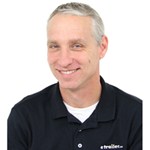 Have a question for the experts? click here.
Products Referenced in This Question
10 Gauge Primary Wire - Blue - per Foot




5 reviews
Retail: $0.94
Price: $0.59
Product Summary:
Wiring
Accessories
10 Gauge
1 Wire

Product Specs:
Wire
Single Wire

more information
Jacketed 2 Wire, 10 Gauge, Brake Wire - per Foot





52 reviews
Price: $1.21
Product Summary:
Wiring
Accessories
10 Gauge
2 Wire

Product Specs:
Wire
Jacketed Wire

more information
Tekonsha Prodigy RF Wireless Trailer Brake Controller - 1 to 3 Axles - Proportional





21 reviews
Retail: $412.41
Price: $308.95
Product Summary:
Proportional Controller
Electric
Digital Display
Trailer Mount

Product Specs:
Automatic Leveling
2 - 6 Brakes
10 Degrees

more information
Tekonsha Prodigy P2 Trailer Brake Controller - 1 to 4 Axles - Proportional





469 reviews
Retail: $167.24
Price: $124.95
Product Summary:
Proportional Controller
Electric
Electric over Hydraulic
Digital Display
Vehicle Mount

Product Specs:
Automatic Leveling
2 - 8 Brakes
360 Degrees

more information
Pollak Circuit Breaker - Cycling/Automatic Reset - 30 Amp - Straight Mount Bracket





1 reviews
Price: $4.09
Product Summary:
Wiring
Accessories
30 Amp

Product Specs:
Circuit Breaker

more information
Product Page this Question was Asked From
Tekonsha PowerTrac Electronic Brake Controller - 1 to 2 Axles - Time Delayed





79 reviews
Retail: $66.78
Price: $59.95
Product Summary:
Time Delayed Controller
Electric
Indicator Light
Vehicle Mount

Product Specs:
Automatic Leveling
2 - 4 Brakes
360 Degrees

more information
More Answers about Brake Controller