Bike Rack Mounting Options for a 2012 Chevrolet Volt
Question:
which bike rack would be best for a 2012 chevy volt? there doesnt seem to be a gap to be able to have a trunk bike rack.
asked by: Cathy P
Expert Reply:
I spoke with my contact at Thule and the Thule Raceway 2 Bike Rack, # TH9001, is confirmed to fit on your 2012 Chevrolet Volt. The top clips will secure to the top edge of the rear hatch door and the bottom clips will secure to the bottom edge of the rear hatch door.

We have a few other options for you as well. You could use the Thule Echelon Roof Mounted Bike Rack, # TH518, with the Thule Traverse Roof Rack as long as your vehicle has 4 doors and has no existing roof rails or crossbars. This roof rack includes the Thule Traverse Foot Packs, # TH480, with the Thule Square Load Bars, # THLB58, and Foot Pack Fit Kit, # THKIT1647. Be sure you check your owners manual and verify the weight capacity of your roof. The roof rack option is not available for 2 door models.

You could also look into a hitch and hitch mounted bike rack. A hitch mounted bike rack will not have any contact with the vehicle and minimize paint damage during trips. We carry the Curt Class I Trailer Hitch, # C11221, and I would recommend one of our most popular bike racks the Thule Helium Aluminum 2 Bike Rack, TH970XT. I have included installation instructions for the hitch and bike rack and a demonstration video of the bike rack for you to check out.

For your 2012 Chevrolet Volt, I would recommend using a hitch and hitch mounted bike rack. This option will provide you with the least amount of vehicle contact and does not require you to load any bikes on the trunk or roof of your vehicle.

If you plan on carrying any womens or childrens bikes, then I would also recommend the Thule Adapter Bar, # TH982XT, to carry the bikes safely. You may also want the Softride Soft Velcro Tie Down, # SR18679 to secure your bike wheels to the bike frame to keep them from hitting the back of your vehicle while driving.
expert reply by: John H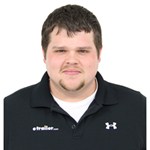 Have a question for the experts? click here.
Products Referenced in This Question
Curt Trailer Hitch Receiver - Custom Fit - Class I - 1-1/4"





1 reviews
Retail: $223.52
Price: $134.11
Product Summary:
Custom Fit Hitch
Class I
Concealed Cross Tube
100 lbs TW
1000 lbs GTW

Product Specs:
1-1/4 Inch Hitch

more information
Softride Soft Velcro Tie Down for Bike Racks





23 reviews
Retail: $2.00
Price: $1.79
Thule Traverse Roof-Rack Foot Pack





16 reviews
Retail: $189.95
Price: $150.95
Thule Echelon Roof Mounted Bike Rack - Fork Mount





3 reviews
Retail: $179.95
Price: $142.95
Product Summary:
Fork Mount
Disc Brake Compatible
1 Bike
Silver
Locks Not Included

Product Specs:
Two Hand Clamping
Square Bars
Round Bars
Nut and Bolt Attachment

more information
Thule Bike Adapter Bar for Women's and Alternative Frame Bikes




74 reviews
Retail: $39.95
Price: $30.95
Product Summary:
Hitch Bike Racks
Trunk Bike Racks
Spare Tire Bike Racks
Accessories
16 - 31-1/2 Inch

Product Specs:
Bike Adapter Bar

more information
Thule Square Load Bars - Steel - 58" - Qty 2





11 reviews
Retail: $89.95
Price: $70.95
Product Summary:
Crossbars
Square Bars
Black
58 Inch Long
2 Bars

Product Specs:
Steel
Locks Not Included

more information
Product Page this Question was Asked From
Thule Raceway 2 Bike Carrier - Trunk Mount





99 reviews
Retail: $249.95
Price: $200.00
Product Summary:
Frame Mount - Anti-Sway
2 Bikes
Hanging Rack
Bike and Rack Lock

Product Specs:
Dual Arm
Folding

more information
More Answers about Trunk Bike Racks