Weight Distribution System for a Cargo Trailer With an 800-1000 lb Tongue Weight
Question:
Hi Im trying to pick the most convinent, The strongest The most durable Best monueverability, be able to back-up The easiest to put on, off goin on cargo trailer, general contractor, off and on because pull truck is daily driver Do the best job, Im not concerned about price but want my money spent wisely Its for a 6 x 10 cargo trailer with a 800-1000 tw thats goin on a 2009 Chevy Tahoe on 33 in tires with 3 in lift kit , so Im trying to pick the right product got a 2inch ball and receiver. Im thinking I need a big cause I run a regular 6inch now and its not enough probably a 8inch is what I need but didnt buy 1 yet cause began think about getting 1 of these systems. Please help me out and Ill purchase from u so product numbers or links to get the stuff would be sweet. Thanks again
asked by: Josh
Expert Reply:
The most important part of choosing a weight distribution system is choosing a system that is rated to work with the weight of your trailer. Be sure you verify the gross trailer weight of your cargo trailer. Based on the 800 to 1,000 lb tongue weight of your trailer I would recommend a weight distribution system with a tongue weight rating of 1,500 lbs.

For your situation I would recommend a trunnion bar system like the Strait-Line Trunnion Weight Distribution with Sway Control, item # RP66130, because they are easier to take on and off and are more durable because they are built for heavier applications. This system has a maximum gross trailer weight capacity of 15,000 lbs and a maximum tongue weight capacity of 1,500 lbs. This will give you plenty of room if the weight of your trailer changes.

This systems also comes with dual-cam sway control to stop trailer sway and keep the trailer in line with the tow vehicle.

The next item to choose is the proper weight distribution shank. Since you have 33 inch tires and a 3 inch lift kit on your 2009 Chevy Tahoe, you may want to get a weight distribution shank like # RP3344. This shank will give you a 7-5/8 inch drop for trunnion bar system. I have included an article and a video showing how to measure for the proper ball mount rise or drop.

Finally you will want to choose a hitch ball with a 1-1/4 inch shank like the 2 inch Curt Hitch Ball, # A-90, or the 2-5/16 inch Curt Hitch Ball, # C40041. The 2 inch hitch balls are only rated up to 10,000 lbs gross trailer weight and a larger ball will allow for a heavier trailer. Be sure the weight of your trailer does not exceed the capacity of the lowest rated component of your towing setup.

I would also recommend checking the towing capacity of your vehicle and see if your lift kit affects your towing capacity and keep in mind that anything loaded in the back of your vehicle will add to the total tongue weight.
expert reply by: John H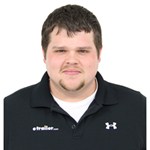 Have a question for the experts? click here.
Products Referenced in This Question
Hitch Ball with 2" Diameter and Medium Shank, 10,000 lbs GTW - Chrome





55 reviews
Retail: $18.20
Price: $10.92

Product Summary:
Hitch Ball
Standard Ball
10000 lbs GTW
Class IV
Chrome

Product Specs:
2-5/8 Inch Shank Length
2 Inch Diameter Ball
1-1/4 Inch Diameter Shank

more information
Trailer Hitch Ball with 2-5/16" Diameter and Medium Shank, 30,000 lbs GTW - Machine Finish





18 reviews
Retail: $29.32
Price: $17.59

Product Summary:
Hitch Ball
Standard Ball
30000 lbs GTW
Machine Finish

Product Specs:
2-5/8 Inch Shank Length
2-5/16 Inch Diameter Ball
1-1/4 Inch Diameter Shank

more information
Reese Weight Dist Shank - Drop Only - 11" Long - 7-5/8", 8-5/8" Drop - 1,400 lbs TW





8 reviews
Retail: $252.29
Price: $151.95

Product Summary:
Weight Distribution
Accessories
Replacement Parts
1400 lbs TW
14000 lbs GTW

Product Specs:
Trunnion - 7-5/8 In Drop
Round - 8-5/8 In Drop
Shanks
Fits 2 Inch Hitch

more information
Strait-Line Weight Distribution w Sway Control - Trunnion Bar - 15,000 lbs GTW, 1,500 lbs TW





3 reviews
Retail: $939.70
Price: $535.96

Product Summary:
WD With Sway Control
Electric Brake Compatible
900 lbs
1000 lbs
1100 lbs
1200 lbs
1300 lbs
1400 lbs
Dual Cam
Trunnion-Style Bars

Product Specs:
Fits 2 Inch Hitch
Shank Not Included
Up to 15000 lbs GTW

more information
Product Page this Question was Asked From
Fastway e2 Weight Distribution w/ 2-Point Sway Control - Trunnion - 8,000 lbs GTW, 800 lbs TW
Price: $399.95

Product Summary:
WD With Sway Control
Electric Brake Compatible
Surge Brake Compatible
600 lbs
700 lbs
2-Point Friction
Trunnion-Style Bars

Product Specs:
Fits 2 Inch Hitch
Includes Shank
Up to 8000 lbs GTW

more information
More Answers about Weight Distribution