Parts Needed to Flat Tow a 2005 Honda CR-V Behind a Motor Home
Question:
I have a Roadmaster Falcon-2 Tow Bar w/Base Motorhome Mounted S078-949628 on my RV and a Roadmaster 162-1 XL Base Plate R039-162-1 on my Saturn. I want to switch to towing a 2005 Honda CRV. I assume I can use the towbar. Are there parts from the saturn I can use also, like the quick release. Plus what else do I need? Thank you
asked by: Roger E
Expert Reply:
The 2005 Honda CR-V will require a completely different and unique set of base plates. The parts from the Saturn will not work on the CR-V. For the Honda, you can use XL base plates # 1555-1. The quick releases that come on the tow bar can be re-used because they are part of the tow bar assembly.

In addition to the correct base plates, you will also need safety cables, if you do not already have some, lighting, and supplemental braking. If you do need safety cables, I recommend the coiled cables, # RM-643, because the coiled design will keep the cables off of the ground.

For lighting, you can use the Roadmaster bulb and socket kit, # RM-155. This kit will work great because it does not require cutting and splicing into the vehicle wiring. It introduces separate bulbs into the tail light housing on the vehicle that are operated by the towing vehicles trailer connector.

Most states now require a supplemental braking system on the vehicle being flat towed. The easiest system to set up and use is the Roadmaster Even Brake, # RM-9400. This is a proportional system that applies the vehicle brakes in proportion to how much the towing vehicle is braking. Proportional systems are the safest way to stop and they reduce wear and tear on both vehicles.

I have also included a link to our series of FAQ articles on flat towing for you. Be sure to consult the vehicle owners manual for specifics on how the vehicle should be towed.
expert reply by: Michael H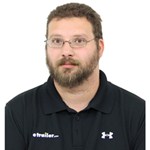 Have a question for the experts? click here.
Products Referenced in This Question
Roadmaster XL Base Plate Kit - Removable Arms
Retail: $429.95
Price: $399.00

Roadmaster Tail Light Wiring Kit with Bulbs




17 reviews
Retail: $55.95
Price: $49.95

Product Summary:
Bypasses Vehicle Wiring
Bulb and Socket Kit

Product Specs:
Universal
Tail Light Mount

more information
RoadMaster 68" Single Hook, Coiled Safety Cables - 6,000 lbs





34 reviews
Retail: $64.95
Price: $44.95

Product Summary:
Tow Bars
Accessories
64 Inch Long
6000 lbs

Product Specs:
Coiled Cable
Safety Cables
Cables

more information
Roadmaster Even Brake Portable Proportional Braking System





1 reviews
Retail: $1,555.60
Price: $1,249.00

Product Summary:
Brake Systems
Proportional System

Product Specs:
Portable System
Recurring Set-Up

more information
Product Page this Question was Asked From
Roadmaster Quick Disconnect Tow Bar Base Assembly





9 reviews
Retail: $100.76
Price: $89.95

Product Summary:
Tow Bars
Replacement Parts
Accessories

Product Specs:
Quick Disconnect
Car Side and Tow Bar Side

more information
More Answers about Accessories and Parts