Fifth Wheel Trailer Hitch Installation Kit Options for a 2004 Nissan Titan SE
Question:
I see that this Valley V55000R has custom Brackets for the holes in the 2004 Nissan Titan SE Frame to reduce drilling tasks, this seems like it would be worth the money. The prior replies to customers indicates a preference of the Reese Rail Installation kit, do these kits require drilling in the frame for the brackets, is there some other reason other than price that you recommend them?
asked by: Edward D
Expert Reply:
There are numerous 5th wheel installation kits available for the 2004 Nissan Titan, see link. For a custom installation kit, Valley and Curt currently have the only options in # V55000R for Valley, and # C16470-104 for Curt. I have included links to the installation instructions for you.

The Reese kit, # RP30035-405, is a semi-custom installation kit. It comes with additional brackets that fit the shape of the truck frame rails, but there is a little more drilling involved. I have included a link to the installation instructions for this kit as well.

We do sometimes lean towards the Reese parts because of pedigree and because they are a leader in the towing industry. But I think you will be pleased with any of the kits listed above.

All of these kits fit the 6-1/2 foot bed models. The 6-1/2 foot bed is going to require a slider trailer hitch. The Valley kit will not fit the 5-1/2 foot bed models, only the Curt and Reese kits. On a 5-1/2 foot bed, a standard hitch is needed along with a Sidewinder for the trailer to get the clearance needed to make tight turns. I have included links to some FAQs that should also help.
expert reply by: Michael H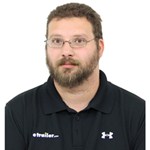 Have a question for the experts? click here.
Products Referenced in This Question
CURT Custom Fifth Wheel Installation Kit for Nissan Titan - Gloss Finish
Retail: $316.67
Price: $190.00

Reese Semi-Custom Base Rail and Installation Kit for 5th Wheel Trailer Hitches - Nissan Titan





1 reviews
Retail: $317.57
Price: $211.90

Product Page this Question was Asked From
Valley Custom Installation Kit with Rails and Brackets for 5th Wheel Trailer Hitch
Retail: $279.84
Price: $257.87

More Answers about Fifth Wheel Installation Kit