Locating the Brake and 12 Volt Power Wires on a 2008 Mercury Mountaineer With Factory Tow Package
Question:
my 2008 mercury mountaineer came from the factory with the socket under the dash for brake controller it has constant 12v power,and 12vpower when brakes applied, my question is there also wires going to the back of the vehicle for the electrical brakes and 12v for the battery on the trailer, there are wires to a socket that lead to a flat 4 pin factory but are the other wires for the electricbrakes,12v charging,if so what are the color of these wires so i can splice into them,rather that run a 2 wires the length of the vehicle, if i can plug into the factory socket will this give me the 12v power for charging along with the electric brake power, there is a OEM 7pin pigtail that looks like it would plug into my main wiring but dont know it the 12v and brake wires are in the socket? Thanks
asked by: Harry H
Expert Reply:
If there is power running to your brake controller, then brake and 12 volt power wire are most likely ran to the rear of your 2008 Mercury Mountaineer. If you follow the wires from the 4 way flat connector on your vehicle, then they should lead to a connection point. You will see 7 wires coming from the front of the vehicle into one side and only 4 wires coming out of this connection point for your 4 way flat connector.

If you have this connection point, then you can pull back the plastic sheathing to expose the 7 wires coming from the front of the vehicle and the orange wire will be for the 12 volt power coming from the battery and the blue wire is for the brakes. If you do not have this connection point, or there are only 4 wires running from the front of the vehicle, then you will need to run the brake and 12 volt power wires to the front of the vehicle.

We do not carry an adapter that can plug directly into this connection point, but we do offer a 4 way to 7 way adapter, #37185. This adapter has a connection point for your existing 4 way flat connector and you can splice the blue wire from the adapter to the blue wire from your vehicle and the black wire from the adapter to the orange wire from your vehicle using a quick splice, part # 564. The white wire will need to be grounded to the frame and the purple wire is usually for reverse lights and can be tied off if it is not needed or spliced into the reverse light circuit.
expert reply by: John H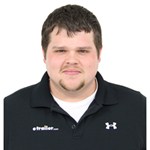 Have a question for the experts? click here.
Products Referenced in This Question
Quick Splice Wire Connector - Tan - 14-18 AWG (Qty 1)





8 reviews
Retail: $0.50
Price: $0.32
Product Summary:
Wiring
Accessories
18-14 Gauge

Product Specs:
Wire Connectors
Quick Splice

more information
Product Page this Question was Asked From
Adapter 4 Pole to 7 Pole and 4 Pole





98 reviews
Price: $23.95
Product Summary:
Wiring Adapters
Multi-Function Adapter

Product Specs:
Plug and Lead
4 Flat
7 Blade
4 Flat

more information
More Answers about Wiring