How to Determine the Correct Pilot Hole Diameter for Wheels on a Puma 23FB Travel Trailer
Question:
I am looking to buy a Puma 23FB travel trailer. They supply the Akuret HF188 ST205/75 R14 tires as standard. They list the rims as: 14x5.5 5-4.5inch Im am not sure who the actual manufacturer is. I do NOT want the Akuret tires as they are made in China. I want to use the Maxxis M8008 ST205/75 R14 tires.For that tire Maxxis says to use a min rim of 6.0 inches to a max of 7.0 inches. This would suggest that the original rims are 0.5 inch too narrow. Looking online, I have found 14x6 5-4.5inch rims, BUT then they list Center Bore or Diam Pilot hole of 3.30 and 3.19 inch. What do I do? Measure the diameter on the original OEM rims? What does the Center Bore or Diam Pilot holes do? Thanks.
asked by: John G
Expert Reply:
The 6 inch wide Dexstar Steel Spoke Trailer Wheel, # AM20532, will work well on your Puma 23FB travel trailer and with the Maxxis tire that you referred to, if you trailer hubs are lug centric hubs. This wheel has a Pilot diameter of 4.27 inches, so as long as that is not too small for your hub center it will work fine. In most cases wheels are lug-centric. I would not recommend going against the manufacturer recommendation for wheel width for the Maxxis tires.

If the wheels on your Puma 23FB trailer are hub-centric, meaning the wheel centers off of the hub instead of the lug nuts, you will want to make sure the pilot hole diameter is the exact same measurement on your new rims as on the factory OEM rims.

You can measure the diameter of the pilot hole on your OEM rims and use that measurement when searching for new rims. I have included an FAQ article for you to review regarding your tire size and compatible rim sizes.
expert reply by: John H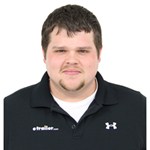 Have a question for the experts? click here.
Product Page this Question was Asked From
Dexstar Steel Spoke Trailer Wheel - 15" x 6" Rim - 6 on 5-1/2 - White Powder Coat





30 reviews
Price: $44.95
More Answers about Tires and Wheels