Trailer Brakes Lock Up Behind 1995 Chevy 2500 but Not Behind a 2004 Ford F-350
Question:
Trailer brakes locked up when pulled by 95 Chevy 2500 and free when pulled by 04 F350. On 7 way looking at female connector back of rigs, no power at the 1:00 terminal on the F350 and on the Chevy the terminal is hot. Showing a little corrision on the chevy 7:00 terminal. Trailers have auxilary power needs and batteries for lights and dump trailer. Trailers seem to be working properly. Where do I check next? Thanks
asked by: Mark G
Expert Reply:
First, the 1:00 pin if looking at the face of the trailer connector on the vehicle is the 12 volt power lead. If the corresponding pin on the trailer goes to the brakes then that could be why they are looking up.

Also, the corrosion that you see sounds like it is on the ground pin. Corrosion can cause a short to the brake circuit and could lock up the brakes. Corrosion can also build up behind the plugs where the wires attach and cause some problems.

Get all of the corrosion cleaned out on the vehicle and trailer side connectors. Make sure the ground is intact on the truck side connector.
expert reply by: Michael H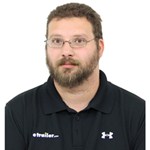 Have a question for the experts? click here.
Product Page this Question was Asked From





2 reviews
Retail: $34.41
Price: $24.95

More Answers about Wiring