4-Way to 7-Way Trailer Connector Adapter for a 2012 Toyota Tundra
Question:
I have a 2012 Tundra prewired with a 4 pole plug for trailer lights. I installed a hitch purchased from you and now Im considering a travel trailer with a 7 pole plug. Is the Tundra prewired for the 7 pole plug? What would I need to install a 7 pole receptacle? No trailer brakes would be required with this particular trailer according to Texas law and I would not buy a controller at this time. Thanks in advance for your help.
asked by: Bill
Expert Reply:
If trailer brakes are not required and you do not plan on getting a brake controller any time soon, you can just use # 37185. Plug the 4-Way into this adapter, ground the white wire and you will be able to plug in the 7-Way and you will have ONLY lighting functions.

If the trailer requires a 12 volt circuit, trailer brakes, auxiliary power, or reverse lights they will not function. If you decide that you do want all of those features in the future. You would need the follow items to complete the installation:

25 feet of # 10-2-1 wire
A 40 amp circuit breaker, # PK54540
A 20 amp circuit breaker, # PK54520 OR a 30 amp circuit breaker, # PK54530
Assorted ring terminals, butt connectors, quick splice connectors, and wire ties

We do have a kit that offers all of these items, # ETBC7, if you just wanted to get everything ahead of time and just install the adapter for now.

And, if you decide on a brake controller, I recommend # 90885 because it is our most popular model for its ease of use.

I have also included a couple of links that will help with installation.
expert reply by: Michael H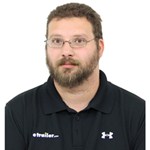 Products Referenced in This Question
Jacketed 2 Wire, 10 Gauge, Brake Wire - per Foot





43 reviews
Price: $1.21

Product Summary:
Wiring
Accessories
10 Gauge
2 Wire

Product Specs:
Wire
Jacketed Wire

more information
Adapter 4 Pole to 7 Pole and 4 Pole





81 reviews
Price: $22.95

Product Summary:
Wiring Adapters
Single Function Adapter

Product Specs:
Plug and Lead
4 Flat
7 Blade
4 Flat

more information
Tekonsha Prodigy P2 Trailer Brake Controller - 1 to 4 Axles - Proportional





387 reviews
Retail: $167.24
Price: $124.95

Product Summary:
Proportional Controller
Electric
Electric over Hydraulic
Digital Display
Vehicle Mount

Product Specs:
Automatic Leveling
2 - 8 Brakes
360 Degrees

more information
Universal Installation Kit forTrailer Brake Controller - 7-Way RV and 4-Way Flat - 10 Gauge Wires





218 reviews
Retail: $84.20
Price: $64.80

Product Summary:
Brake Controller
Accessories
2 - 8 Brakes
10 Gauge Wire

Product Specs:
Connector
Brake Controller Wiring
Wired to Brake Controller

more information
Pollak Circuit Breaker - Cycling/Automatic Reset - 20 Amp - Straight Mount Bracket





2 reviews
Price: $4.09

Product Summary:
Wiring
Accessories
20 Amp

Product Specs:
Circuit Breaker

more information
Pollak Circuit Breaker - Cycling/Automatic Reset - 30 Amp - Straight Mount Bracket
Price: $4.09

Product Summary:
Wiring
Accessories
30 Amp

Product Specs:
Circuit Breaker

more information
Pollak Circuit Breaker - Cycling/Automatic Reset - 40 Amp - Straight Mount Bracket





1 reviews
Price: $4.09

Product Summary:
Wiring
Accessories
40 Amp

Product Specs:
Circuit Breaker

more information
Product Page this Question was Asked From
T-One Vehicle Wiring Harness with 4-Pole Flat Trailer Connector





75 reviews
Retail: $37.18
Price: $29.95

More Answers about Custom Fit Vehicle Wiring