Weight Distribution Recommendation for a 2004 Dodge Ram 1500 Towing a 29 Foot Travel Trailer
Question:
i would like to know what Weight Dist. Hitch to use and sway control. I have a 29ft. travel trailer that has a dry weight of 4880 and a max weight of 7530. I am pulling it with a 2004 Dodge Ram 4x4 with a towing package. I pulled it home with a regular receiver hitch and ball. but i am concerned when i go to load the trailer how well will the truck tow with the added weight. Can use please give me some advice on the best WD hitch to use and a sway control.
asked by: Eric F
Expert Reply:
The best way to select a weight distribution system for towing your 29 foot travel trailer with your 2004 Dodge Ram 1500 truck is to weigh the trailer when it is fully loaded and ready to tow. When weighing the trailer you will need to determine the gross trailer weight and the gross tongue weight, and add the weight of anything you may need to load behind the rear axle in the bed of your Ram to the tongue weight. Any time the gross trailer weight is heavier than 50 percent of the trucks gross weight a weight distribution system is recommended.

With this information you can select a weight distribution system that has a tongue weight capacity and gross weight capacity that is safe for use with your setup. We have an informational article, see link, that has weight distribution system information and explains how to weigh your trailers tongue weight.

As an example, if your trailer is 6,500 lbs gross weight when fully loaded and ready to travel and you do not have any weight behind the rear axle in the bed of the truck then the Pro Series RB2 Round Bar Weight Distribution Kit, # 49570, would be a good choice. This system is good for tongue weights from 600 - 1,200 lbs.

I recommend the round bar system for your truck because ground clearance should not be and issue on your truck and round bar kits are a bit more economical. The 49570 system comes with a weight distribution shank, and the only additional item you will need is a hitch ball with a 1-1/4 inch diameter shank, like the Tow Ready ball # 19286.

Sway control can be added if you find that trailer sway is an issue when traveling in high winds or when passing 18 wheelers on the highway. The Pro Series weight distribution system will accept a Friction Sway Control Kit, # 83660, which will help control sway in many cases.

If you wanted to upgrade to a system that is compatible with friction sway control or the dual cam sway control system, you could go with the Reese Weight Distribution System, # RP61009, and could then add Dual Cam Sway Control, # RP26002, if you find that more aggressive sway control is needed for your trailer.

If you would like to just go with weight distribution and dual cam sway control from the start, you can go with the other part you referred to # RP66074.

Normally trailer sway can be corrected by properly loading the trailer, so if you experience trailer sway when you are just driving on the highway and no adverse conditions are causing it, you should check the trailer tongue weight. Most of the time weight will need to be added to the front of the trailer to stop sway in these circumstances.
expert reply by: Bob G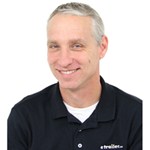 Have a question for the experts? click here.
Products Referenced in This Question
Reese Dual Cam High-Performance Sway Control





8 reviews
Retail: $299.58
Price: $184.95

Product Summary:
Sway Control Only
Electric Brake Compatible
Dual Cam

Product Specs:
Shank Not Included

more information
Reese Weight Distribution System w Shank - Round Bar - 12,000 lbs GTW, 1,200 lbs TW





1 reviews
Retail: $648.89
Price: $399.95

Product Summary:
WD Only
Electric Brake Compatible
700 lbs
800 lbs
900 lbs
1000 lbs
1100 lbs
Round Bars

Product Specs:
Fits 2 Inch Hitch
Includes Shank
Up to 12000 lbs GTW

more information
Strait-Line Weight Distribution w Sway Control - Trunnion Bar - 12,000 lbs GTW, 1,200 lbs TW





5 reviews
Retail: $842.96
Price: $485.66

Product Summary:
WD With Sway Control
Electric Brake Compatible
700 lbs
800 lbs
900 lbs
1000 lbs
1100 lbs
Dual Cam
Trunnion-Style Bars

Product Specs:
Fits 2 Inch Hitch
Shank Not Included
Up to 12000 lbs GTW

more information
Product Page this Question was Asked From
Pro Series RB2 Round Bar Weight Distribution Kit with Shank, 1,200 lbs TW / 12,000 lbs GTW





10 reviews
Retail: $444.11
Price: $309.95

Product Summary:
WD Only
Electric Brake Compatible
700 lbs
800 lbs
900 lbs
1000 lbs
1100 lbs
Round Bars

Product Specs:
Fits 2 Inch Hitch
Includes Shank
Up to 12000 lbs GTW

more information
More Answers about Weight Distribution