Can the Peak Backup Camera System be Installed on the Back of a 21 Foot Travel Trailer
Question:
Hi Is it possible to install on behind my 21foot trailer? if so i would like to know any problem such as loss signal reciever, or to far from receiver. or can i install receiver near or mid of trailer. Any suggestion or comment very much appreciated.
asked by: Linh M
Expert Reply:
You can install the Peak back up camera on the back of your trailer. however, you will want to extend the transmitter as far forward on the trailer as you can to get the best signal. For that you can use the extension cable, # PKCORD with the camera system.

The cable extends the connection between the camera and the transmitter. But, you will still have the same length leads for power and ground to the transmitter. You can tap into the reverse light circuit (or running light circuit if you want the camera to come on with the head lights) anywhere you are able to. Or, you can use your own wire and connect the transmitter to the rear of the trailer to make up for the extended length of the extension cable.

The unit has a 75 foot range with an unobstructed path. However, the closer the transmitter is to the monitor, the better and more stable the image will be.
expert reply by: Michael H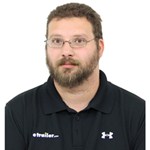 Have a question for the experts? click here.
Video/Article/FAQ this Question was Asked From
Article or Video