Will the Derale Series 8000 Plate-Fin Transmission Cooler Kit Fit on a 2006 GMC Canyon
Question:
I have a 2006 Canyon with a 3500 Vortec I5 Engine, 4 speed auto transmission. The tranny went out at 66,000 miles. Weve had it rebuilt, last 3 weeks, rebuilt again, lasted 2 days all once we got it on highway driving. We now have been advised that the oil is not cooling and that we need to install a transmission cooler. Will this cooler fit the truck?
asked by: Darlene S
Expert Reply:
Adding an aftermarket transmission cooler is a good idea in any case. Transmission coolers are not vehicle specific so the Plate-Fin Transmission Cooler Kit, # D13502, will fit as long as there is room in front of the vehicle between the air conditioning condenser and the grill to mount it. We have a couple of transmission cooler installation videos that detail different ways to install a transmission cooler for you to review.

I would select the largest cooler possible in your situation. The Plate-Fin Transmission Cooler Kit, # D13504, is the largest, most efficient, cooler we have available and would be a good choice, provided that there is space at the front of your vehicle. Heat is the enemy of your transmission and you cannot cool the transmission fluid too much so the largest cooler available will cool the most.

My information shows that you will also need the Snap-In Radiator Adapter Fitting, # D13035, to ease the installation on your Canyon.

It sounds to me like you should also look into why the original equipment cooler is not cooling the transmission fluid properly before you proceed with any more repairs or drive the vehicle after having the transmission rebuilt.
expert reply by: Bob G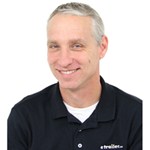 Have a question for the experts? click here.
Products Referenced in This Question
Derale Snap-In Radiator Adapter Fitting for GM





23 reviews
Retail: $14.12
Price: $9.99
Product Summary:
Transmission Coolers
Accessories

Product Specs:
Radiator Adapters

more information
Derale Series 8000 Plate-Fin Transmission Cooler Kit w/Barb Inlets - Class IV - Efficient




19 reviews
Retail: $116.52
Price: $67.95
Product Summary:
Plate-Fin Cooler
With 11/32 Inch Hose Barb Inlets
Class IV

Product Specs:
11W x 12T x 7/8D Inch
Standard Mount

more information
Product Page this Question was Asked From
Derale Series 8000 Plate-Fin Transmission Cooler Kit w/Barb Inlets - Class III - Efficient




34 reviews
Retail: $93.62
Price: $50.95
Product Summary:
Plate-Fin Cooler
With 11/32 Inch Hose Barb Inlets
Class III

Product Specs:
11W x 7-1/4T x 7/8D Inch
Standard Mount

more information
More Answers about Transmission Coolers