Are Universal 5th Wheel Trailer Hitch Installation Brackets Compatible Rails that Run Front to Back
Question:
We have a 2010 GMC Sierra 6-1/2 foot bed, 2500 HD series. We have a used husky super fifth wheel B 1406 hitch. We have everything except the brackets for under the bed. would the L brackets from the RP30035 installation rails kit work? Could we buy just the L brackets if they do, or could we make them if we had the measurements? Our rails run front to back along the side of the bed where yours runs the width of the bed, would the brackets be compatible with ours? thanks
asked by: James F
Expert Reply:
The Reese L-shaped brackets are not compatible with the Husky installation kit you have. The # RP30035 brackets are designed for rails that run side to side in the bed. It is not a good idea to mix underbed bracket and rail manufacturers as a rule because they have not been tested together.

You will either need to get a compatible installation kit for the hitch and rails or a new fifth wheel trailer hitch and installation kit that are all compatible for your 2010 GMC Sierra.

I recommend a custom installation kit, # RP50064-58, because it requires less drilling and the underbed brackets are designed to fit your truck. I have included a link to the installation details and a link to a video showing a typical installation for you.

For a trailer hitch, you will want one with enough capacity to handle the gross trailer weight and pin weight, but I also recommend going with a round tube slider because they have 12 inches of travel, the most available. For a 16K hitch use # RP30075 and for a 20K use # RP30083.
expert reply by: Michael H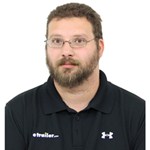 Have a question for the experts? click here.
Products Referenced in This Question
Reese Universal Base Rails and Installation Kit for 5th Wheel Trailer Hitches - 10 Bolt





52 reviews
Retail: $185.15
Price: $124.95

Reese 5th Wheel Trailer Hitch w/ Round Tube Slider - Dual Jaw - 16,000 lbs





1 reviews
Retail: $1,669.15
Price: $869.95

Product Summary:
Sliding Fifth Wheel
Hitch Only
12 Inch Fore/Aft Travel
4000 lbs TW
16000 lbs GTW

Product Specs:
Standard - Double Jaw
Double Pivot
15 - 18 Inch Tall

more information
Reese 5th Wheel Trailer Hitch w/ Round Tube Slider - Single Jaw - 20,000 lbs





4 reviews
Retail: $2,078.82
Price: $1,069.95

Product Summary:
Sliding Fifth Wheel
Hitch Only
12 Inch Fore/Aft Travel
5000 lbs TW
20000 lbs GTW

Product Specs:
Premium - Single-Hook Jaw
Double Pivot
14 - 18 Inch Tall

more information
Reese Quick-Install Custom Base Rails and Installation Kit for 5th Wheel Trailer Hitches





28 reviews
Retail: $423.88
Price: $274.95

Product Page this Question was Asked From
Reese Select Plus 5th Wheel Trailer Hitch - Single Jaw - 20,000 lbs





9 reviews
Retail: $1,389.49
Price: $719.95

Product Summary:
Fixed Fifth Wheel
Hitch Only
5000 lbs TW
20000 lbs GTW

Product Specs:
Premium - Single-Hook Jaw
Double Pivot
14 - 16 Inch Tall

more information
More Answers about Fifth Wheel