Parts Needed to Flat Tow a 2007 Ford F-150 4x4 Behind an Dump Truck
Question:
I want to tow my 07 f150 4x4 auto trans with manual transfer case. I want to tow this from a Kenworth dump truck. I could install a pintle hitch or a reciever for a 2foot slide in, but would want to leave the tow bar on pickup or remove it to work the dump truck..Any Ideas? thanks
asked by: Jon A
Expert Reply:
Since your 2007 Ford F-150 4x4 has a manual transfer case and not the electronic shift on the fly feature, you can flat tow the truck. But, you will want to confirm this by consulting the vehicle owners manual for the proper towing procedure.

You will first want to install base plates on the truck. I recommend using XL style base plates # 495-1A because there are a lot of compatible tow bar options for the XL style plates. For a tow bar, you you will be using a pintle hitch and want a tow bar that will stay attached to the F-150, you can use # RM-581. If you will be using a regular trailer hitch and want a tow bar that will stay on the F-150 use # RM-502.

You will also need safety cables like # RM-643. The coiled design will help keep the cables off of the ground. For lighting, I recommend using the RoadMaster Tail Light Wiring Kit with Bulbs, # RM-155. This kit does NOT require cutting into the vehicle wiring.

Most states now require a supplemental braking system on the vehicle being towed. The easiest system to set up and use is a portable system like # RM-9400. This portable system is also proportional; it applies the vehicle brakes in proportion to how much the towing vehicle is braking. This is the safest way to stop and it reduces wear and tear on both vehicles.

I have included a link to our series of FAQ articles on flat towing for you.
expert reply by: Michael H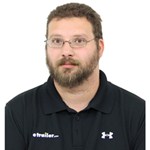 Have a question for the experts? click here.
Products Referenced in This Question
Roadmaster Tail Light Wiring Kit with Bulbs




26 reviews
Retail: $71.73
Price: $51.95
Product Summary:
Bypasses Vehicle Wiring
Bulb and Socket Kit

Product Specs:
Universal
Tail Light Mount

more information
RoadMaster StowMaster All Terrain Car-Mounted Tow Bar - 6,000 lbs





3 reviews
Retail: $816.68
Price: $699.00
Product Summary:
Coupler Style
Telescoping
Non-Binding
Steel
6000 lbs

Product Specs:
Roadmaster EZ
Roadmaster XL
Roadmaster Standard
Stores on Car

more information
RoadMaster 68" Single Hook, Coiled Safety Cables - 6,000 lbs





42 reviews
Retail: $60.63
Price: $45.95
Product Summary:
Tow Bars
Accessories
64 Inch Long
6000 lbs

Product Specs:
Coiled Cable
Safety Cables
Cables

more information
Roadmaster Even Brake Portable Proportional Braking System





1 reviews
Retail: $1,555.60
Price: $1,249.00
Product Summary:
Brake Systems
Proportional System

Product Specs:
Portable System
Recurring Set-Up

more information
Product Page this Question was Asked From
RoadMaster Blackhawk 2 All Terrain Tow Bar - 10,000 lbs





3 reviews
Retail: $1,070.57
Price: $950.00
Product Summary:
Hitch Mount Style
Telescoping
Non-Binding
Steel
10000 lbs

Product Specs:
Roadmaster MX
Roadmaster EZ
Roadmaster XL
Roadmaster Standard
Stores on RV

more information
More Answers about Tow Bars