Adding Trailer Wiring and a Brake Controller to a 2012 Harley Davidson TriGlide Trike
Question:
Could you please tell me the best brake controller set up to use for my new Trike. I previously towed the trailer with my Ultra Classic but wondered if there is something better that you can recommend for the trike. We are in Canada so anything with a Canadian distributor would be best. Thanks for your help.
asked by: Wayne P
Expert Reply:
The first thing you will need to do is install a wiring converter on the trike to add a 4-Way trailer connector, and then add a 7-Way connector. You can use # 119175KIT. You will connect the white wire to a grounding location. Connect the brown wire to the running light wire. Connect the yellow wire to the left turn signal. Connect the red wire to the brake light. And connect the green wire to the right turn signal.

After this kit is installed, you will need to add a 7-Way using # 37185. Connect the 4-Way you installed to this 7-Way. Attach the white wire to a ground location. The purple wire is not needed. The blue wire, goes to the blue wire of a brake controller and the black wire goes to the positive battery terminal via a 40 amp circuit breaker, # PK54540. If the trailer does not have anything on it that needs 12 volt power then this wire does not need to be connected.

For a brake controller, there are a few options. You can install a Time Delay controller like # 5520. In addition to making the blue wire connection to the 7-Way, you will also need to connected the white wire to ground at the negative battery terminal, the black wire to the positive battery terminal via a 20 amp circuit breaker, # PK54520, and the red wire to a dedicated brake light wire.

Another option is to use the Prodigy RF, # 90250, that mounts on the trailer. You would not connect the blue wire on the 7-Way to the trike anywhere if you used this controller. You would also need a 12 volt power receptacle on the bike to plug in the hand held unit. I have included a link to the installation details for this controller and the 119175 wiring harness for you.
expert reply by: Michael H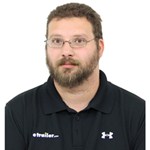 Have a question for the experts? click here.
Products Referenced in This Question
Upgraded Circuit Protected Taillight Converter Hardwire Kit with 4 Pole End (Includes Testers)





166 reviews
Retail: $43.74
Price: $35.44

Product Summary:
Trailer Hitch Wiring
Converter
3 Wire System
Universal Fit

more information
Adapter 4 Pole to 7 Pole and 4 Pole





81 reviews
Price: $22.95

Product Summary:
Wiring Adapters
Single Function Adapter

Product Specs:
Plug and Lead
4 Flat
7 Blade
4 Flat

more information
Tekonsha Prodigy RF Wireless Trailer Brake Controller - 1 to 3 Axles - Proportional





12 reviews
Retail: $412.41
Price: $308.95

Product Summary:
Proportional Controller
Electric
Digital Display
Trailer Mount

Product Specs:
Automatic Leveling
2 - 6 Brakes
10 Degrees

more information
Pollak Circuit Breaker - Cycling/Automatic Reset - 20 Amp - Straight Mount Bracket





2 reviews
Price: $4.09

Product Summary:
Wiring
Accessories
20 Amp

Product Specs:
Circuit Breaker

more information
Pollak Circuit Breaker - Cycling/Automatic Reset - 40 Amp - Straight Mount Bracket





1 reviews
Price: $4.09

Product Summary:
Wiring
Accessories
40 Amp

Product Specs:
Circuit Breaker

more information
Product Page this Question was Asked From
Draw-Tite Activator III Trailer Brake Controller - 1 to 4 Axles - Time Delayed





6 reviews
Retail: $140.44
Price: $97.95

Product Summary:
Time Delayed Controller
Electric
Digital Display
Vehicle Mount

Product Specs:
Automatic Leveling
2 - 8 Brakes
360 Degrees

more information
More Answers about Brake Controller