How to Hardwire a Trailer Brake Controller on a 2002 Toyota Tacoma
Question:
I need installation instructions for a trailer brake control Activator II model 5500, using the following: - Tow Ready wiring Kit # 20506 - Tow Ready 7-Way Flat Pin Connect. # 20321 Installation will be on a 2002 Toyota Tacoma 4X4 without tow package.One of my concerns is if Im supposed to end up with wires not used on my Pin connect. #20321, also according to diagram on part # 20506 recommends to install black wire on kit to ground on battery, black wire has been used for positive already please advise. Thanks in advanced for your help and support
asked by: Jesus O
Expert Reply:
The 2002 Toyota Tacoma requires a hardwire installation for a brake controller. The problem you are most likely running into on the 7-Way you are trying to install is that you either have not connected a 4-Way to the 7-Way you have or you have not connected all the loose wires.

If you need a 4-Way, you can use # 118379. I have included a link to the installation details and a link to a video showing a typical installation.

Once you have the 4-Way connected to the 7-Way adapter, you will still have 4 wires to connect. White is ground, connect it to the vehicle frame. The black wire connects to the positive battery terminal via a 40 amp circuit breaker, # PK54540.

The blue wire will connect to the blue wire on the back of the brake controller. That should leave you with one remaining wire that will go to the reverse light wire behind one of the vehicle tail lights. If the trailer does not have reverse lights you do not need to connect this wire.

The # 5506 installation kit you have is good for wiring the brake controller black, white and red wires, but you will need more wire and other parts to make the connections from the back of the truck to the battery and brake controller. We recommend # ETBC7 that comes with everything you will need. But, since you already have the 7-Way and most of an installation kit, you will need that 40 amp circuit breaker, and probably about 25 feet of # 10-2-1 wire.

You can still follow the installation FAQ and video for the ETBC7 that I have lined for you. The only other part you may need is a circuit tester, # 3808.
expert reply by: Michael H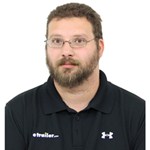 Have a question for the experts? click here.
Products Referenced in This Question
Jacketed 2 Wire, 10 Gauge, Brake Wire - per Foot





43 reviews
Price: $1.21

Product Summary:
Wiring
Accessories
10 Gauge
2 Wire

Product Specs:
Wire
Jacketed Wire

more information
T-One Vehicle Wiring Harness with 4-Pole Flat Trailer Connector





108 reviews
Retail: $60.52
Price: $44.95






2 reviews
Retail: $34.41
Price: $24.95

Wiring Kit for 2, 4, 6 and 8 Brake Electric Brake Controllers





3 reviews
Retail: $40.58
Price: $37.26

Product Summary:
Brake Controller
Accessories
2 - 8 Brakes
10 Gauge Wire

Product Specs:
Wiring
Brake Controller Wiring
Wired to Brake Controller

more information
Universal Installation Kit forTrailer Brake Controller - 7-Way RV and 4-Way Flat - 10 Gauge Wires





218 reviews
Retail: $84.20
Price: $64.80

Product Summary:
Brake Controller
Accessories
2 - 8 Brakes
10 Gauge Wire

Product Specs:
Connector
Brake Controller Wiring
Wired to Brake Controller

more information
Pollak Circuit Breaker - Cycling/Automatic Reset - 40 Amp - Straight Mount Bracket





1 reviews
Price: $4.09

Product Summary:
Wiring
Accessories
40 Amp

Product Specs:
Circuit Breaker

more information
Product Page this Question was Asked From
Draw-Tite Activator II Trailer Brake Controller - 1 to 4 Axles - Time Delayed





44 reviews
Retail: $123.90
Price: $79.95

Product Summary:
Time Delayed Controller
Electric
Digital Display
Vehicle Mount

Product Specs:
Automatic Leveling
2 - 8 Brakes
360 Degrees

more information
More Answers about Brake Controller