Can Base Plates for Flat Towing be Installed on a 1998 Jeep Wrangler with Aftermarket Bumper
Question:
Can you tow the vehicle with this bumper on? Is there an accessory to be able to tow behind an RV with this bumper?
asked by: Scott
Expert Reply:
In order to flat tow any vehicle, including a 1998 Jeep Wrangler, you will need to have base plates installed because they create a safe and secure connection for use with a tow bar to flat tow a vehicle. The base plates for the Jeep (see link) are designed for installation on stock vehicles and I cannot guarantee that they will fit with an aftermarket bumper on like # B4291701.

To choose the correct base plates you will need to go by the stock bumper. There are base plates for Jeeps with the double tube type of bumper and those for the U-channel bumper. For a double tube or U-channel, I recommend # 1424-1.

The most popular tow bar for the XL style base plates is the Roadmaster Falcon 2, # RM-520. This is a motor home mounted tow bar with a 6,000 pound capacity. I have included a link to the installation details and a video review for you. For safety cables, use Coiled Cables, # RM-643. The coiled designed helps keep the cables off the ground.

For lighting, there are a few different options depending on your specific needs and the frequency with which you will be towing the Jeep. I have included a link to an FAQ article that covers the various options and will help you select which option is best for you.

Most states now require a supplemental braking system on the vehicle being flat towed. The easiest to set up and use is the Even Brake, # RM-9400. This is a proportional system that applies the vehicle brakes in proportion to how much the tow vehicle is braking. Proportional systems are the safest way to stop and they reduce wear and tear on both vehicles.

I have included a link to our series of FAQ articles on flat towing for you. Make sure to consult the vehicle owners manual to determine the proper procedure for towing the vehicle.
expert reply by: Michael H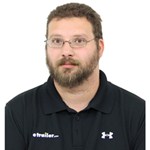 Have a question for the experts? click here.
Products Referenced in This Question
Roadmaster XL Base Plate Kit - Removable Arms





2 reviews
Retail: $429.95
Price: $399.00

RoadMaster Falcon 2 Tow Bar - 6,000 lbs





9 reviews
Retail: $732.05
Price: $590.00

Product Summary:
Hitch Mount Style
Telescoping
Standard
Steel
6000 lbs

Product Specs:
Roadmaster EZ
Roadmaster MX
Roadmaster XL
Roadmaster Standard
Stores on RV

more information
RoadMaster 68" Single Hook, Coiled Safety Cables - 6,000 lbs





34 reviews
Retail: $64.95
Price: $44.95

Product Summary:
Tow Bars
Accessories
64 Inch Long
6000 lbs

Product Specs:
Coiled Cable
Safety Cables
Cables

more information
Roadmaster Even Brake Portable Proportional Braking System





1 reviews
Retail: $1,555.60
Price: $1,249.00

Product Summary:
Brake Systems
Proportional System

Product Specs:
Portable System
Recurring Set-Up

more information
Product Page this Question was Asked From
Bestop HighRock 4x4 - High Access - Front Bumper with Winch Plate for 1997-2006 Jeep
Retail: $783.57
Price: $474.95

Product Summary:
Off-Road Bumper
Front Bumper - Winch Plate
Black

Product Specs:
Accessory Bumper

more information
More Answers about Bumper