Recommended parts for Flat Towing a 2003 Chevy Avalanche
Question:
I have a 2003 Mandalay 40B motorhome with air brakes need to know what system to use to tow a 2003 avalanche. What is best option for tow bar, base plate, braking system, and lighting for brakes and turn signals
asked by: Jeff M
Expert Reply:
First, you will need to consult the vehicle owners manual to determine if your 2003 Chevy Avalanche can be flat towed. Some models require special parts (such as a transmission lube pump or drive shaft coupling). If you find your model can be flat towed, you will need to start with base plates.

For a 1500, use Roadmaster XL Base Plates, # 199-5. For a 2500, use # 3112-1. If your truck came with a brushguard, the base plates will not fit unless the brushguard is removed.

Next you will need a compatible tow bar. Since the Avalanche is a larger vehicle, I recommend going with a 10,000 pound capacity tow bar, the Blackhawk, # RM-422. I have included a link to the installation details for you to view.

The Blackhawk tow bar comes with built-in safety cable channels so you will need straight cables. For 8,000 pound cables, use # RM-649.

For lighting, you have several options depending on how often you will be towing the Avalanche. I have included a link to our FAQ article that covers the various options and will help you to determine which is best for you.

Most states now require a supplemental braking system on the vehicle being flat towed. You mentioned that your motor home has air brakes. If you want to use the air brake system on the motor home to power the brakes on the truck, you can use the BrakeMaster with BrakeAway, # RM-9160. I have incldued a link to the isntallation details for you.

Another option is to use a proportional system, the Even Brake, # RM-9400. This system is easy to set up and use and does not require tapping into the air lines from the motor home.

I have also included a link to our series of FAQ articles on flat towing for you.
expert reply by: Michael H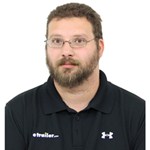 Have a question for the experts? click here.
Products Referenced in This Question
Roadmaster XL Base Plate Kit - Removable Arms





1 reviews
Retail: $429.95
Price: $399.00
RoadMaster Blackhawk 2 All Terrain Tow Bar - 10,000 lbs





3 reviews
Retail: $1,070.57
Price: $950.00
Product Summary:
Hitch Mount Style
Telescoping
Non-Binding
Steel
10000 lbs

Product Specs:
Roadmaster MX
Roadmaster EZ
Roadmaster XL
Roadmaster Standard
Stores on RV

more information
RoadMaster 64" Single Hook, Straight Safety Cables - 8,000 lbs




2 reviews
Retail: $84.95
Price: $79.95
Product Summary:
Tow Bars
Accessories
64 Inch Long
8000 lbs

Product Specs:
Straight Cable
Safety Cables
Cables

more information
Roadmaster BrakeMaster with BrakeAway for Motor Homes with Air or Air Over Hydraulic Brakes





2 reviews
Retail: $883.85
Price: $799.00
Product Summary:
Brake Systems
Proportional System

Product Specs:
Power Assist Brake Compatible
Fixed System
Recurring Set-Up

more information
Roadmaster Even Brake Portable Proportional Braking System





1 reviews
Retail: $1,555.60
Price: $1,249.00
Product Summary:
Brake Systems
Proportional System

Product Specs:
Portable System
Recurring Set-Up

more information
Product Page this Question was Asked From
RoadMaster BrakeMaster for Motor Homes with Air or Air Over Hydraulic Brakes




2 reviews
Retail: $619.52
Price: $549.00
Product Summary:
Brake Systems
Proportional System

Product Specs:
Power Assist Brake Compatible
Fixed System
Recurring Set-Up

more information
More Answers about Tow Bar Braking Systems