Brake Controller 7 and 4 Way Installation Kit without the Pre-wired 7 and 4 way Trailer Connector
Question:
I have a 2000 Honda Odyssey with Curt Class III Round Tube receiver hitchinch C13068 and the OEM electrical harness routed through the bumper channel out a hole in the bottom of the bumper cover. The harness has a 4 pole connector plugged into a Curt Adapter 4 Pole to 7 Pole and 4 Pole w/Test Lampsinch C57674. I recently bought a used 2008 Jayco 1206 and this TV wiring configuration worked to get the trailer home.inch But now I need to add the brake controller Im thinking about the Tekonsha P-3 and the associated wiring to the C57674 adapter. Is there a less expensive version of the Brake Controller 7 and 4 Way Installation Kitinch ETBC7 that does not come with the Pre-wired 7 and 4 way connector with mounting bracketinch since I already have C57674? ...or could you provide a listing of all the component pieces that I would need to assenble a kit that is equivalent to ETBC7? Also, what is the best way to get a finishedinch looking mechanical installation of the C57674 connector on the round tube receiver? Right now I just have it attached with zip ties its pretty ugly. Would Drawtite 6 and 7-Way Trailer Connector Mounting Box for Round or Square Tube Hitchesinch 18159 work with C57674? If so, how would you suggest mounting the 4 pole connector? Would I discard the mounting bracket that came with C57674 and use something like 4-Flat Universal Mounting Bracketinch 118149?
asked by: Jason
Expert Reply:
What you can do to complete the installation of the CURT 7-Way and install a Tekonsha P3, # 90195, is to use the Wiring Kit, # 5505 (for 2 and 4 trailer brake assemblies) or # 5506 (for 6 to 8 assemblies). You would also need one 40 amp circuit breaker for the 12 volt hot lead, # PK54540. You would still follow the FAQ and video for the # ETBC7 which I have linked for you.

The Adapter 4 Pole to 7 Pole, # C57674, should have come with a mounting bracket and self-tapping screws so that you could mount it to a flat surface (not the hitch) under the vehicle. Something like the mounting box # 18159 is not going to work because the adapter also has that 4-Way flat connector and the mounting box does not have a place for it.

What you could do is use # 18136 or # 18140 with the bracket that comes with the adapter for a more professional appearance.
expert reply by: Michael H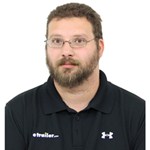 Products Referenced in This Question




30 reviews
Retail: $13.19
Price: $9.99

Product Summary:
Wiring
Accessories

Product Specs:
4 Round
5 Round
6 Round
Mounting Brackets

more information





42 reviews
Retail: $12.69
Price: $8.49

Product Summary:
Wiring
Accessories

Product Specs:
4 Round
5 Round
6 Round
Mounting Brackets

more information
6 and 7-Way Trailer Connector Mounting Box for Round or Square Tube Hitches





11 reviews
Retail: $12.60
Price: $10.49

Product Summary:
Wiring
Accessories

Product Specs:
6 Round
7 Round
Mounting Brackets

more information
Wiring Kit for 2 and 4 Brake Electric Brake Controllers





4 reviews
Retail: $40.58
Price: $37.26

Product Summary:
Brake Controller
Accessories
2 - 4 Brakes
10 Gauge Wire

Product Specs:
Wiring
Brake Controller Wiring
Wired to Brake Controller

more information
Wiring Kit for 2, 4, 6 and 8 Brake Electric Brake Controllers





3 reviews
Retail: $40.58
Price: $37.26

Product Summary:
Brake Controller
Accessories
2 - 8 Brakes
10 Gauge Wire

Product Specs:
Wiring
Brake Controller Wiring
Wired to Brake Controller

more information
Tekonsha Prodigy P3 Trailer Brake Controller - 1 to 4 Axles - Proportional





392 reviews
Retail: $195.16
Price: $144.15

Product Summary:
Proportional Controller
Electric
Electric over Hydraulic
Digital Display
Vehicle Mount

Product Specs:
Automatic Leveling
2 - 8 Brakes
360 Degrees

more information
Adapter 4 Pole to 7 Pole and 4 Pole w/Test Lamps





22 reviews
Retail: $47.91
Price: $28.75

Product Summary:
Wiring Adapters
Single Function Adapter

Product Specs:
Plug and Lead
4 Flat
7 Blade
4 Flat

more information
Pollak Circuit Breaker - Cycling/Automatic Reset - 40 Amp - Straight Mount Bracket





1 reviews
Price: $4.09

Product Summary:
Wiring
Accessories
40 Amp

Product Specs:
Circuit Breaker

more information
Product Page this Question was Asked From
Universal Installation Kit forTrailer Brake Controller - 7-Way RV and 4-Way Flat - 10 Gauge Wires





219 reviews
Retail: $84.20
Price: $64.80

Product Summary:
Brake Controller
Accessories
2 - 8 Brakes
10 Gauge Wire

Product Specs:
Connector
Brake Controller Wiring
Wired to Brake Controller

more information
More Answers about Accessories and Parts