Weight Distribution / Sway Control Recommendation for a 2005 Chevy Suburban and Forest River Trailer
Question:
just bought a 2004 Forest River Wildwood travel trailer. Hitch weight is 775,dry weight is 5120 7775 gross and the length is 28foot - 9. My tow vehicle is a 2005 Chevy Surburban 2500. First time camper here , and need some good advice on hitch setup, best combinations,TW and GTW,etc. Which WD setup would you recommend?
asked by: Hal
Expert Reply:
You have provided excellent information for me to make a good recommendation for you. When choosing a weight distribution system, you will want to look at those models that have a tongue weight capacity range that encompasses the trailer tongue weight when loaded and ready to tow. And you also have to factor in the weight of anything loaded behind the rear axle of the Suburban when calculating tongue weight.

If the hitch weight is 775 pounds and you had up to 425 pounds loaded behind the rear axle of the Suburban, I would recommend a system rated for 600 to 1,200 pounds tongue weight. I also recommend a system that comes with dual-cam sway control because it proactively and aggressively resist the start of sway by forcing the vehicle and trailer to ride in straight line.

A system that fits all of this criteria is the Reese Strait-Line Weight Distribution System, # RP66084. This system also comes with the adjustable shank so you will just need a properly sized ball to complete the set up. For a 2-5/16 inch diameter ball use # 19286 or for a 2 inch, use # A-90.

I have included links to the installation details for the weight distribution and sway control and a link to our FAQ article on weight distribution and sway control for you.
expert reply by: Michael H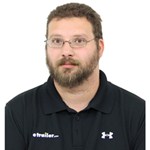 Have a question for the experts? click here.
Products Referenced in This Question
Hitch Ball with 2-5/16" Diameter and Medium Shank, 12,000 lbs GTW - Chrome





46 reviews
Retail: $17.13
Price: $12.49

Product Summary:
Hitch Ball
Standard Ball
12000 lbs GTW
Class IV
Chrome

Product Specs:
2-3/4 Inch Shank Length
2-5/16 Inch Diameter Ball
1-1/4 Inch Diameter Shank

more information
Hitch Ball with 2" Diameter and Medium Shank, 10,000 lbs GTW - Chrome





54 reviews
Retail: $18.20
Price: $10.92

Product Summary:
Hitch Ball
Standard Ball
10000 lbs GTW
Class IV
Chrome

Product Specs:
2-5/8 Inch Shank Length
2 Inch Diameter Ball
1-1/4 Inch Diameter Shank

more information
Strait-Line Weight Distribution System w Sway Control - Trunnion Bar - 12,000 lbs GTW, 1,200 lbs TW





4 reviews
Retail: $1,001.77
Price: $568.00

Product Summary:
WD With Sway Control
Electric Brake Compatible
700 lbs
800 lbs
900 lbs
1000 lbs
1100 lbs
Dual Cam
Trunnion-Style Bars

Product Specs:
Fits 2 Inch Hitch
Includes Shank
Up to 12000 lbs GTW

more information
Product Page this Question was Asked From
Strait-Line Weight Distribution w Sway Control - Trunnion Bar - 12,000 lbs GTW, 1,200 lbs TW





5 reviews
Retail: $842.96
Price: $485.66

Product Summary:
WD With Sway Control
Electric Brake Compatible
700 lbs
800 lbs
900 lbs
1000 lbs
1100 lbs
Dual Cam
Trunnion-Style Bars

Product Specs:
Fits 2 Inch Hitch
Shank Not Included
Up to 12000 lbs GTW

more information
More Answers about Weight Distribution