Weight Distribution Recommendation for a 2008 Flagstaff Tent Trailer and 2006 Dodge Grand Caravan
Question:
Hi, I have a 2008 Flagstaff 228 tent trailer. The GVWR is about 3100 pounds. The tongue weight is about 320 - 350 pounds. The dry weight is about 2000 pounds. Im pulling it with a 2006 Dodge grand caravan. Will the RP66151 work on my trailer, or is it to much of a WDH? I like the fact that the clamp/friction plate that attaches to the frame is not as wide as the normalinch attachments, since Ill have to cut part of the top plate off my trailer. this plate holds the propane tank and battery.
asked by: Brad
Expert Reply:
First, you want to choose a weight distribution system based on the tongue weight of the trailer when loaded and ready to tow but also, you must factor in the weight of anything loaded behind the rear axle of the van when you calculate tongue weight. For example if the trailer tongue weight is 350 pounds and you have 150 pounds of luggage in the cargo area, that brings the tongue weight to 500 pounds.

For your trailer I would look at a weight distribution system rated for 200 to 600 pounds. You had mentioned a propane tank and battery on the trailer. What I recommend is going with a chain hanging system, but using Chain Hangers, # RP58305, that attach to the side of the trailer frame so the top of the frame remains clear.

With these hangers I would use a Strait-Line Weight Distribution System, # RP66086. The hangers would replace the lift up brackets that would normally attach to the top of the frame. This system also comes with dual-cam sway control which is preferred because it proactively and aggressively resist the start of sway by forcing the vehicle and trailer to ride in straight line.

This system includes everything you will need except a ball. For a 2-5/16 inch diameter ball use # 19286. For a 2 inch diameter ball use # A-90. I have included a link to the installation details for the weight distribution system and a link to a video showing a typical installation. I have also included a link to our weight distribution and sway control FAQ article.
expert reply by: Michael H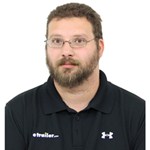 Have a question for the experts? click here.
Products Referenced in This Question
Hitch Ball with 2-5/16" Diameter and Medium Shank, 12,000 lbs GTW - Chrome





46 reviews
Retail: $17.13
Price: $12.49

Product Summary:
Hitch Ball
Standard Ball
12000 lbs GTW
Class IV
Chrome

Product Specs:
2-3/4 Inch Shank Length
2-5/16 Inch Diameter Ball
1-1/4 Inch Diameter Shank

more information
Hitch Ball with 2" Diameter and Medium Shank, 10,000 lbs GTW - Chrome





54 reviews
Retail: $18.20
Price: $10.92

Product Summary:
Hitch Ball
Standard Ball
10000 lbs GTW
Class IV
Chrome

Product Specs:
2-5/8 Inch Shank Length
2 Inch Diameter Ball
1-1/4 Inch Diameter Shank

more information
Chain Hangers for Reese Weight Distribution Systems - Bolt On





13 reviews
Retail: $119.02
Price: $56.95

Product Summary:
Weight Distribution
Replacement Parts

Product Specs:
Frame Bracket

more information
Strait-Line Weight Distribution System w Sway Control - Round Bar - 10,000 lbs GTW, 600 lbs TW





2 reviews
Retail: $929.22
Price: $564.95

Product Summary:
WD With Sway Control
Electric Brake Compatible
300 lbs
400 lbs
500 lbs
Dual Cam
Round Bars

Product Specs:
Fits 2 Inch Hitch
Includes Shank
Up to 10000 lbs GTW

more information
Product Page this Question was Asked From
Reese SC Weight Distribution System w Sway Control - Trunnion - 10,000 lbs GTW, 600 lbs TW





4 reviews
Retail: $912.11
Price: $515.95

Product Summary:
WD With Sway Control
Electric Brake Compatible
Surge Brake Compatible
300 lbs
400 lbs
500 lbs
2-Point Friction
Trunnion-Style Bars

Product Specs:
Fits 2 Inch Hitch
Includes Shank
Up to 10000 lbs GTW

more information
More Answers about Weight Distribution