How to Charge Two 12 Volt Batteries on an RV Towed by a Ford F-150
Question:
im trying to pull my rv and it came with 8 pin outlet from factory. i have a 7 pin outlet on my truck and i read on your site that i can charge my rv battery but i want to know how many batterys i can charge with my truck because my rv comes with 2 12v batterys
asked by: Leo
Expert Reply:
The 12 volt circuit on a 7-Way trailer connector can provide a maintenance charge to a 12 volt battery but it will not be able to fully charge it because the wiring for a 7-Way is too small to carry the current required.

What you can do to charge the batteries on the RV is to first install a battery isolator, # TR118665, in the truck. You will need to attach one terminal to the positive on the truck battery and then connect the center terminal to a 12 volt ignition source (something that is only on when the key is turned on).

The last terminal, connect heavy gauge wire (up to 00 size), like battery cable, and route it all the way to the rear of the truck avoiding areas that may pinch or burn the wire. Attach the wire to the Pollak Single-Pole, Round Pin Trailer Wiring Socket, # PK11851. Then, on the trailer side, you will need a Pollak Single-Pole, Round Pin Trailer Wiring Connector, # PK11852, and the same heavy gauge wire and connect it to one of the RV batteries positive terminal.

The 2 RV batteries will need to be connected in parallel to charge both of them. To do this you will connect the positive of one battery to the positive of the other and do the same with the negatives. Since there are 2 batteries it will take longer to charge but the large gauge wire can handle the current. The isolator will only allow power to flow back to the RV batteries if the truck is on.
expert reply by: Michael H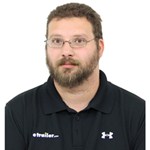 Have a question for the experts? click here.
Products Referenced in This Question
Pollak Single-Pole, Round Pin Trailer Wiring Socket - Vehicle End
Retail: $35.30
Price: $19.95

Product Summary:
Trailer Connectors
Vehicle End Connector

Product Specs:
Plug Only
1 Round

more information
Pollak Single-Pole, Round Pin Trailer Wiring Connector - Trailer End





1 reviews
Retail: $37.35
Price: $17.95

Product Summary:
Trailer Connectors
Trailer End Connector

Product Specs:
Plug Only
1 Round

more information
Tow Ready Battery Isolation Solenoid





3 reviews
Retail: $19.22
Price: $18.95

Product Page this Question was Asked From
Roadmaster Quiet Hitch for 2" Trailer Hitches





188 reviews
Price: $23.95

Product Summary:
Anti-Rattle
Universal

Product Specs:
Sleeve Style
Fits 2 Inch Hitch
Non-Locking

more information
More Answers about Hitch Accessories