Parts Needed to Install a Trailer Brake Controller on a 2003 and 2009 Honda Pilot with Tow Package
Question:
I have both 2003 and 2009 Honda Pilots. Both have Factory Tow packages installed. I am buying a new Haulmark trailer with tandem axles and electric brakes and want to purchase a Tekonsha P3 from you and be able to move the controller from one vehicle to the other. What would I need to get everything wired up correctly. Thanks.
asked by: Ken P
Expert Reply:
The 2009 Honda Pilot can use a wiring adapter for the brake controller but there is no adapter available for the 2003. So you will need to hardwire it. But lets start with the 2009.

You will need the brake controller and the wiring harness. The brake controller is part # 90195 and the wiring harness is # 3070-P that you have referenced. I have included a link to the installation details for the brake controller for you.

The brake controller comes with a harness that has blunt cut wires. You will not need it for the 2009 so you can use it on the 2003. You will need about 25 feet of # 10-1-1 wire to make some connections. From the brake controller blue wire on the 2003, attach one end to the blue wire and then route the other end all the way back to the 7-Way. Remove the wire currently attach to the 7-Way in the 7 oclock position and replace it with the wire you ran. Save any extra wire.

Back in the cab attach one end of a length of wire to the white wire, route it through the firewall and attach it to the negative battery terminal. Then, back in the cab, attach another length or wire to the black wire and route it through the firewall. Go first to a 20 amp circuit breaker, # PK54520, AUX post and then attach wire to the BAT post to the positive battery terminal.

The last connection will take place in the vehicle cab at the brake switch above the brake pedal. Use a circuit tester like # 3808 to probe the wires on the brake switch until you find the one that carries a signal ONLY when the brake pedal is pressed. Connect it to the red brake controller wire using a quick splice, # 564, to complete installation.

For an additional mounting bracket for the brake controller, use # 59045901.
expert reply by: Michael H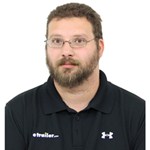 Have a question for the experts? click here.
Products Referenced in This Question
10 Gauge Primary Wire - Blue - per Foot




5 reviews
Retail: $0.94
Price: $0.59

Product Summary:
Wiring
Accessories
10 Gauge
1 Wire

Product Specs:
Wire
Single Wire

more information





2 reviews
Retail: $34.41
Price: $24.95

Quick Splice Wire Connector - Tan - 14-18 AWG (Qty 1)




8 reviews
Retail: $0.21
Price: $0.13

Product Summary:
Wiring
Accessories
18-14 Gauge

Product Specs:
Wire Connectors
Quick Splice

more information
Tekonsha Replacement Cradle and Mount Bracket for P3 Brake Controller





13 reviews
Price: $16.98

Product Summary:
Brake Controller
Replacement Parts

Product Specs:
Mounting Bracket

more information
Tekonsha Prodigy P3 Trailer Brake Controller - 1 to 4 Axles - Proportional





392 reviews
Retail: $195.16
Price: $144.15

Product Summary:
Proportional Controller
Electric
Electric over Hydraulic
Digital Display
Vehicle Mount

Product Specs:
Automatic Leveling
2 - 8 Brakes
360 Degrees

more information
Pollak Circuit Breaker - Cycling/Automatic Reset - 20 Amp - Straight Mount Bracket





2 reviews
Price: $4.09

Product Summary:
Wiring
Accessories
20 Amp

Product Specs:
Circuit Breaker

more information
Product Page this Question was Asked From
Tekonsha Plug-In Wiring Adapter for Electric Brake Controllers - Honda





14 reviews
Price: $14.99

Product Summary:
Brake Controller
Accessories

Product Specs:
Wiring
Brake Controller Wiring
Plugs into Brake Controller

more information
More Answers about Accessories and Parts