Recommended Mobility Scooter Carrier to Carry Jazzy 614 Power Chair on 2009 Chevy Traverse
Question:
Will this carrier hold a Jazzy 614 HD power chair we dont have it yet but were told it will be 25.5inch wide and weigh 186.5 lbs. to be transported via a 2009 Chevrolet Traverse? It appears the dimensions will accommodate the chair and I believe the tongue weight limit is 500 lbs. 186.5 lb. chair + 82 lb. carrier = 268.5 lbs., so it should work but I want to make sure before I make a purchase. Also, are there any other carriers you would recommend instead?
asked by: Corey
Expert Reply:
The Highland Moover Transporter Cargo Carrier you referenced, part # 5801600 would be a great choice to carry your power chair. It looks like the width would not be an issue. You will want to make sure that the power chair is no longer than 48 inches.

The only thing that might prevent you from using this particular carrier is the amount of clearance between the carrier and the rear bumper of your Traverse. An aftermarket receiver hitch for that model year Traverse will typically have 6-1/2 inches of clearance from the hitch pin hole to the furthest rearward portion of the rear bumper. If you have an aftermarket hitch, you will need to choose a carrier whose shank is longer than 6-1/2 inches. Because the Moover Cargo carrier has a shank that is 5-1/2 inches long, it will not work if you have the aftermarket hitch.

If your Traverse has the 2 inch factory receiver, you will need to measure the distance from the hitch pin hole to the furthest rearward portion of the rear bumper, and choose a carrier whose shank is longer than that distance.

The Pro Series Steel Solo Cargo Carrier, part # PS10401-10402 offers 12 inches of clearance, and might be your best choice if your vehicle uses an aftermarket receiver hitch. The dimensions of this carrier are similar to the one you referenced, and although the weight capacity is lower at 400 lbs, there is still plenty of capacity to handle the power chair you mentioned. With the Pro Series Carrier, I would also recommend the Anti-Rattle Hitch Lock, part # SR25219.
expert reply by: Mike L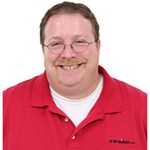 Have a question for the experts? click here.
Products Referenced in This Question
32x48 Pro Series Steel Solo Cargo Carrier and Folding Ramp for 2" Hitches - 400 lbs




8 reviews
Retail: $441.72
Price: $289.74

Product Summary:
Carrier with Ramp
Fixed Carrier
Steel
400 lbs
31-3/4 x 47-3/4 Inch

Product Specs:
10.7 Square Feet
Fits 2 Inch Hitch
Class 3

more information
Stainless Steel Locking, Anti-Rattle Threaded Hitch Pin for 2" Trailer Hitches





24 reviews
Retail: $36.99
Price: $33.29

Product Summary:
Hitch Lock
Anti-Rattle
Universal
Keyed Unique

Product Specs:
Threaded Pin Style
Fits 2 Inch Hitch
Locking

more information
Product Page this Question was Asked From
48x32 Cargo Carrier with Side Rails and Ramp - The Moover Transporter System for 2" Hitches





2 reviews
Retail: $530.81
Price: $381.95

Product Summary:
Carrier with Ramp
Fixed Carrier
Steel
300 lbs
32 x 48 Inch

Product Specs:
10.7 Square Feet
Fits 2 Inch Hitch
Class 3

more information
More Answers about Hitch Cargo Carrier