What Material is the Holland Fifth Wheel King Pin, # T809 Made Of
Question:
I plan on welding it to a peice of 4inch d.o.m. tubing that has .25inch wall thickness. Will i need a special rod to weld this or any certain heat up cool down procedure ?
asked by: Chuck T
Expert Reply:
The Holland Fifth Wheel King Pin, # T809, is machined steel (specifically AISI 8630H hardened to 302-363 BHN). You should not need any special welding equipment outside of what you would normally use for welding steel. The same for the heat up/cool down. It will be the same as when welding any other steel component of like steel.

Any welding should be done by a qualified professional welder.
expert reply by: Michael H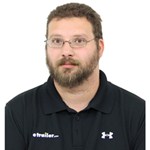 Have a question for the experts? click here.
Product Page this Question was Asked From





2 reviews
Retail: $102.78
Price: $92.95

Questions and Comments about this Question
I also would like to know the material as type of materialsteel is extremely important to a certified welder as we will be making a certified weld. There are hundreds of grades of steel and it is easy to weld some to others and some are very difficult to weld together. A572-50 will weld easily to A36 however to weld A514 to A572-50 together require special preheat and different welding wirerod than the previous combination. All three grades of steel previously mentioned could be used to make a king pin depending on the performance you want.
comment by: KYLE L - 1/22/2013
I spoke with my contact at Holland and it is AISI 8630H hardened to 302-363 BHN.

Patrick B - 2/4/2013
More Answers about Fifth Wheel King Pin