Can Roller Bunks be Used on a Boat Trailer for a Hurricane SS211 Boat
Question:
I have a Hurricane SS211.Here are the specs of the hull. BOTTOM WIDTH 88inch, Outer chine 55.75footfoot inner chine 28.75, approx. rise 7.5inch beam 102foot overall length 253.75, verticle dimensions 34.25 approx fulcrum point 77inch I would prefer to use rollers but am not sure if they would be appropriate. Can I use them and if so what are the distances I should place them. Thanks
asked by: Evan W
Expert Reply:
According to the research I did, I found that a Hurricane SS211 weighs in at about 2,990 pounds. That is not counting any gear that would be on the boat, water, fuel, and other items. All of these incidentals would push it over 3,000 pounds which would exceed the capacity of the Boat Trailer Deluxe Roller Bunks, # DL21741.

All of the roller bunks we carry are rated for either 2,500 pounds (4 foot length) or 3,000 pounds (5 foot length). For your boat, I think the best solution would be carpeted bunks and the right size trailer winch. A winch can pull more weight than it is rated for if it is a rolling or floating load (like a boat).

A winch like the Dutton-Lainson Hand Winch, # DL14521, has a capacity of 1,600 pounds but can pull a rolling load on a level surface of 16,000 pounds. You could use this winch with a strap, # DL24249. I have included a link to our FAQ article on hand winches for you.

If you find that your boat weighs less, then you can use the rollers. Since the boat is about 21 feet long, you would need 4 for the total length. However, not all of the length will be touching the rollers so if you measure the amount of the hull that contacts the boat now, that is the length you would need.

The rollers on a bunk are space evenly about 1 foot apart. So between 2 sets along the same bunk on a trailer, they would be about a foot apart.
expert reply by: Michael H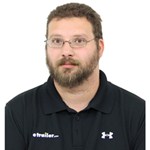 Have a question for the experts? click here.
Products Referenced in This Question
Dutton-Lainson Hand Winch with TUFFPLATE Finish, Two Speed with Direct Drive - 1,600 lbs.
Retail: $59.99
Price: $54.95

Product Summary:
Standard Hand Winch
Two Speed Winch
Standard Crank

Product Specs:
Single Reel Drum
1600 lbs

more information
Hand Winch Strap with Safety Hook, 2" Wide x 25' Long - 4,000 lbs.





5 reviews
Retail: $22.99
Price: $15.95

Product Summary:
Winches
Accessories
Replacement Parts
2 In Wide
4000 lbs

Product Specs:
25 Feet Long
Cables and Straps
Strap

more information
Product Page this Question was Asked From
Boat Trailer Deluxe Roller Bunk - 5' Long - 12 Sets of 3 Rollers - by Dutton-Lainson





22 reviews
Retail: $109.99
Price: $109.95

Product Summary:
Roller and Bunk Parts
Rollers

Product Specs:
5 Feet Long
Roller Bunk

more information
More Answers about Boat Trailer Parts