Only Front Trailer Brakes Work with Prodigy and Only Rear Brakes Work with Breakaway Switch
Question:
I have an issue with trailer brakes and dont know where to start. While doing wheel bearings today, I decided to check the break away switch. When I pulled the pin, the rear axle brakes engaged both sides, but the front axle brakes did not. However, when I connected the truck and tried the lever on the Prodigy, the front axle brakes engaged, but the rear axle brakes did not. The prodigy was set to 12 volts maximum. Where and what should I start testing? It would seem that if one axle works with the break away switch, and one works with the Prodigy, the magnets should be ok. Doesnt the break away switch and the break controller work though the the same wire feeding the brakes, except they come from different sources? Second observation - rust dust on the rear axle shoes, indicating they havent been working, but the Prodigy is supposed to show OG or a short and it does not. Please give me some advice what to test.
asked by: Rob G
Expert Reply:
It sounds to me like your trailer brakes are mis-wired. I would start by unplugging the trailer and checking for voltage at the brake output connection in the vehicle connector with a circuit tester, # 3808 if needed. Set the Prodigy to max voltage as you stated and make sure the vehicle is putting out voltage. It sounds like this will show that the prodigy is working properly.

Next, Check the wiring on the trailer. I have posted a drawing that shows how the wiring should be installed on the trailer for trailer brakes and a breakaway switch with battery, see link. You are correct that the breakaway system and the brake wiring should send power to the trailer brakes on the same wires. It sounds like, somewhere along the line, the wiring to the trailer brakes has been changed so that the breakaway battery is only sending power to the rear axle on the trailer and the brake controller is only sending power to the front axle.

The rust and dust in the rear hub leads me to believe this is correct and if the rear axle is isolated from the front axle the prodigy would not detect a mis-wire condition of this type.
expert reply by: Bob G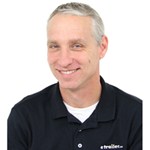 Have a question for the experts? click here.
Products Referenced in This Question





2 reviews
Retail: $34.41
Price: $24.95

Tekonsha Prodigy P2 Trailer Brake Controller - 1 to 4 Axles - Proportional





385 reviews
Retail: $167.24
Price: $124.95

Product Summary:
Proportional Controller
Electric
Electric over Hydraulic
Digital Display
Vehicle Mount

Product Specs:
Automatic Leveling
2 - 8 Brakes
360 Degrees

more information
Product Page this Question was Asked From





2 reviews
Retail: $34.41
Price: $24.95

More Answers about Wiring