Trailer Wheel Pilot Hole Diameter is Too Small for New Hub and Drum Assemblies
Question:
The rims on my trailer has an 4 1/2 hub opening. I recently bought this part number 42866uc3 from a local dealer. and the one the sent me is is just like the one pictured on part number 8-219-4UC3 and will only accept 4 3/4 will one of these work in my application?
asked by: Gary
Expert Reply:
If the pilot hole on the wheel was larger than 4-3/4 inches, and the wheel is center on the hub using the lug nut rather than wheel bolts, it would not matter. But since the wheel pilot hole is smaller, you will not be able to use the hubs you purchased without also replacing the wheels.

I went out to the warehouse and measured a Trailer Hub and Drum Assembly, # 42866UC3, to determine the diameter of the center portion that goes through the pilot hole of the wheel. Using some digital dial calipers, it measured out to be approximately 3.6 inches. But there is a wider part nearer the bottom that I could not get the calipers around. It looked to exceed 4-1/2 inches.

The Trailer Hub and Drum Assembly, # 8-219-4UC3, also measured 3.6 inches. However, when you take into account the 4 squared sections near the center of the hub, adjacent to 4 of the wheel studs, it measured 4-3/4 inches across.

All of the 8 on 6-1/2 bolt pattern wheels we carry have a 4-3/4 pilot hole or larger. For example, the Dexstar Steel Spoke Trailer Wheel, # AM20750, has a pilot diameter of 4.9 inches. It is possible that the wheels you have are an unconventional size or are for a different application.
expert reply by: Michael H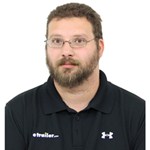 Have a question for the experts? click here.
Products Referenced in This Question
Trailer Hub and Drum Assembly - 5,200-lb to 7,000-lb Axles - 8 on 6-1/2 - 1/2" Studs





2 reviews
Retail: $137.02
Price: $85.95
Product Summary:
Hub with Integrated Drum
Standard
16 Inch
16-1/2 Inch
17-1/2 Inch
18-1/2 Inch
25580
14125A

Product Specs:
12 x 2 Inch Drum
For 5200 lbs Axles
For 6000 lbs Axles
For 7000 lbs Axles
8 on 6-1/2 Inch

more information
Dexstar Steel Spoke Trailer Wheel - 16" x 6" Rim - 8 on 6-1/2 - White Powder Coat





9 reviews
Price: $48.95
Product Summary:
Wheel Only
Steel
6 Inch Wide

Product Specs:
16 Inch
8 on 6-1/2 Inch

more information
Product Page this Question was Asked From
Trailer Hub and Drum Assembly - 5,200-lb, 6,000-lb and 7,000-lb Axles - 8 on 6-1/2





3 reviews
Retail: $143.48
Price: $84.95
Product Summary:
Hub with Integrated Drum
Standard
16 Inch
16-1/2 Inch
17-1/2 Inch
18-1/2 Inch
25580
14125A

Product Specs:
12 x 2 Inch Drum
For 5200 lbs Axles
For 6000 lbs Axles
For 7000 lbs Axles
8 on 6-1/2 Inch

more information
More Answers about Trailer Hubs and Drums