How to Determine if a Scooter on Rage Motorcycle Carrier MX600 Will Clear Spare on a Jeep Wrangler
Question:
I just ordered the mx600 motorcycle carrier for my son to get his scooter to college. however, he has a jeep wrangler with a spare tire mounted on the back door. will the mount for the scooter clear the tire or do i need to extend the mount. please advise
asked by: Bill
Expert Reply:
What you will need to do to determine fit of the Rage Motorcycle/Scooter Carrier, # MX600, on the Jeep Wrangler is take a couple of measurements. On the Jeep, measure from the center of the hitch pin hole out to the distance required to clear the spare tire.

Next, measure the width of the scooter at the widest point and dived by 2 to get half. Then, take the result and subtract it from 20 (for example if the scooter was 22 inches wide, dive by 2 to get half which is 11. Then take 20 minus 11 to get 9 inches). The 20 inches is the distance from the hitch pin hole to the center of the carrier where the scooter will be.

If the measurement to clear the spare tire is smaller than 20 inches minus half the width of the scooter, then it will clear the spare tire. If not, you will need to remove the spare tire.

The Jeep will also have to have a Class III trailer hitch with a tongue weight capacity of 500 pounds. If the scooter has a rear mounted engine and weighs over 300 pounds this carrier cannot be used.
expert reply by: Michael H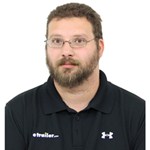 Have a question for the experts? click here.
Product Page this Question was Asked From
Rage PowerSport Steel Motorcycle Carrier for 2" Hitch Receiver - 600 lbs





19 reviews
Price: $184.95

More Answers about Hitch Cargo Carrier