Recommendation for a Programmer for a 2003 GMC Yukon XL 2500 with 8.1 Liter V8 Gas Engine
Question:
I have a 2003 Yukon XL 2500 with the 8.1 liter V-8 in it and Im wanting to buy a programmer ,or something to increase power and some fuel economy. Wondering what you suggest , including the part numbers so I order the right parts. Also wanting to be able to adjust speedometer because of larger tires.Would also like a part number for a pod that the programmer fits in ,not the suction cup style. THANK YOU FOR YOUR HELP!! I keep getting led a stray by other web sites.
asked by: Adam D
Expert Reply:
I can promise you that I will only lead you to the right parts for your vehicle every time. For your 2003 GMC Yukon XL with the 8.1 liter gas engine, there are 2 options for Edge programmers. First is the Color Screen Evolution, # EP85150, that you have referenced. The other option is the Color Touch Screen Evolution, # EP85250.

The difference between these two parts is that the former has a color screen and push button interface while the latter has a touch screen interface. Otherwise, both offer the same features, including the ability to enter your tire size so that it can make the necessary adjustments so you know you are going the correct speed.

There are several settings you can choose from including economy, towing, and performance, that I am certain you will find the right balance of power and fuel economy. I have included a link to the installation instruction manual for you to view.

For a dash pod, again there are 2 options. If you go with the color screen model with push button interface, # EP85150, then all you will need for a dash pod is # EP28300. If you decide to go with the touch screen model, you will need the same pod and an adapter, # EP98003.

Other parts that will offer more power/fuel economy are air intake and exhaust upgrades. For air intake, I recommend the dry filter AFE system, # AFE51-10091. Dry filters are good for paved and semi-dusty roads.

Exhaust upgrades will also provide more power and better fuel economy. For your vehicle, we have the MagnaFlow System, # MF15716. I have a MagnaFlow system on my GXP and have seen an increase of 4 percent in miles per gallon. It does not seem like much but I have only had the system for a few weeks.
expert reply by: Michael H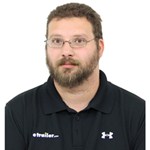 Have a question for the experts? click here.
Products Referenced in This Question
aFe Direct Fit Cold Air Intake System with Pro Dry S Filter - Stage 1
Retail: $248.75
Price: $199.00

Product Summary:
Intake System
Dry Filter
Pro Dry S Filter

Product Specs:
14 Additional Horsepower
Open Box/Heat Shield
No Tube

more information
Custom Dash Pod for Edge Monitors
Retail: $50.00
Price: $40.00

Edge Evolution CTS Programmer - Color Touch Screen - V8 Engines





2 reviews
Retail: $736.25
Price: $589.00

Product Summary:
Programmer and Monitor
Evolution
Color Touch Screen

more information
Edge Custom Dash Pod Adapter Kit for Edge CTS Programmer
Retail: $12.50
Price: $10.00

MagnaFlow Stainless Steel Cat-Back Exhaust System - Gas
Retail: $860.64
Price: $665.04

Product Summary:
Cat-Back Exhaust
Gas
Rear Exit - Single - Curved - Passenger Side
Single
1

Product Specs:
Stainless Steel
3 Inch
4 Inch

more information
Product Page this Question was Asked From
Edge Evolution CS Programmer - Color Screen - V8 Engines





1 reviews
Retail: $548.75
Price: $439.00

More Answers about Performance Chip