Blue Ox Base Plates to Roadmaster Tow Bar Adapter and Flat Towing a 2000 Mitsubishi Eclipse
Question:
I have a Falcon All-Terrain Tow Bar. Would the Blue- Ox base plate work with this? I plan on towing a 2000 Mitsubishi Eclipse. Thank you!
asked by: Jason
Expert Reply:
In order to use your Roadmaster Falcon All-Terrain Tow Bar, # RM-522, with Blue Ox Base Plates, you will need to use an adapter. The correct adapter is Roadmaster Tow Bar to Blue Ox Brackets Adapter, # RM-031. The correct base plates for a 2000 Mitsubishi Eclipse are # BX1941.

If your 2000 Mitsubishi Eclipse has an F4A51 or F4A42 automatic transmission, you will need to use a transmission lube pump to flat tow it.

If it has a 5 speed manual transmission, it can be flat-towed. If it has any other transmission type, you will need to consult the vehicle owners manual to determine how to tow the vehicle.

In addition to a tow bar and base plates, you will also need a few other items. You will need a set of safety cables, like # RM-643. The coiled design helps keep the cables from touching the ground.

You will also need a lighting solution. There are several lighting solutions available depending on your specific needs. I have included a link to an FAQ article that will help you choose the correct solution for your vehicle and needs.

Most states now require a supplemental braking system installed on the vehicle that is being towed. The easiest to install and use is the Roadmaster Even Brake, # RM-9400. This unit applies the vehicles brakes in proportion to how much the towing vehicle is braking. This makes for safer braking and reduces wear and tear on both vehicles.

I have included a link to our series of FAQ articles on flat towing for you.
expert reply by: Michael H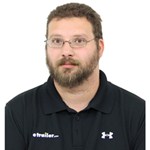 Have a question for the experts? click here.
Products Referenced in This Question
Blue Ox Base Plate Kit - Fixed Arms
Retail: $430.00
Price: $379.99

Roadmaster Tow Bar to Blue Ox Brackets Adapter





5 reviews
Retail: $97.92
Price: $79.95

Product Summary:
Base Plates
Accessories

Product Specs:
Adapter
Roadmaster to Blue Ox

more information
RoadMaster 68" Single Hook, Coiled Safety Cables - 6,000 lbs





34 reviews
Retail: $64.95
Price: $44.95

Product Summary:
Tow Bars
Accessories
64 Inch Long
6000 lbs

Product Specs:
Coiled Cable
Safety Cables
Cables

more information
Roadmaster Even Brake Portable Proportional Braking System





1 reviews
Retail: $1,555.60
Price: $1,249.00

Product Summary:
Brake Systems
Proportional System

Product Specs:
Portable System
Recurring Set-Up

more information
Product Page this Question was Asked From
Blue Ox Base Plate Kit - Removable Arms
Retail: $430.00
Price: $379.99

More Answers about Base Plates