Transmission Cooler Recommendation for a 2011 Chevy Silverado 1500 with 4.8 Liter Engine
Question:
I have a new purchase of a 6ftx10ft single axle, enclosed trailer, do I in fact need a transmission cooler, My truck is a 2011 Chevy Silverado, 1500, 4.8 engine, 2 wheel drive, automatic trans, If so, which complete set of parts do I need to have, to complete the job,
asked by: Steve S
Expert Reply:
Some vehicles are required by the vehicle manufacturer to have a transmission cooler installed if they are to tow. Usually this information can be found in the owners manual.

Regardless of whether or not a cooler is needed, it is a good idea to install one because it will keep the transmission fluid in the optimum operating temperature range, and prolong the life of the transmission.

For your 2011 Chevy Silverado with a 4.8 liter, the most popular cooler is the Derale Plate-Fin Cooler, # D13502, and Derale indicates you will also need fitting # D13035, that you have referenced. This is a smaller cooler, but it will provide supplemental cooling for the fluid.

A lot of people like to go as large as they can. If you want a larger cooler and have space, I recommend # D13503, with the same fitting. It has about twice the cooling capacity of the smaller cooler. Transmission fluid cannot be overcooled, but in the winter, the larger the cooler, the longer it takes to warm up.

The coolers come with everything you will need to mount and install on your truck. I have included a link to our FAQ article on transmission coolers, and a video showing a typical installation for you to view.
expert reply by: Michael H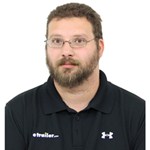 Have a question for the experts? click here.
Products Referenced in This Question
Derale Series 8000 Plate-Fin Transmission Cooler Kit w/Barb Inlets - Class III - Efficient




26 reviews
Retail: $93.62
Price: $50.95

Product Summary:
Plate-Fin Cooler
With 11/32 Inch Hose Barb Inlets
Class III

Product Specs:
11W x 7-1/4T x 7/8D Inch
Standard Mount

more information
Derale Series 8000 Plate-Fin Transmission Cooler Kit w/Barb Inlets - Class III - Efficient





48 reviews
Retail: $102.45
Price: $55.95

Product Summary:
Plate-Fin Cooler
With 11/32 Inch Hose Barb Inlets
Class III

Product Specs:
11W x 8-3/4T x 7/8D Inch
Standard Mount

more information
Product Page this Question was Asked From
Derale Snap-In Radiator Adapter Fitting for GM





12 reviews
Retail: $14.12
Price: $9.99

Product Summary:
Transmission Coolers
Accessories

Product Specs:
Radiator Adapters

more information
More Answers about Accessories and Parts