Troubleshooting Trailer Running Lights Only Working on passenger Side, Kia Soul
Question:
Hi, I recently bought the part and put i on my Kia Soul after installation I check brake lights,flashers, turn signals, and they all worked, when I turned on my lights my drivers side light is out. Where should I troubleshoot from here? Thank you
asked by: Paul
Expert Reply:
First, I am showing wiring harness # 118431 for a 2010 Kia Soul, so hopefully that is the one you are using. This sounds like a ground problem on the trailer. The running light circuit is on a different wire than the stop and turn lights, so it makes sense that those are working correctly. On the trailer, take a look at the offending light. Trailer lights usually ground through the mounting studs, unless there is an obvious ground wire. While back there, check that the bulb is intact.

In either case, mounted stud or wire grounded, make sure the grounds are attached to clean and corrosion free bare metal surfaces. Check the lights again after cleaning any dirt and corrosion.

If you are still having problems, check the trailer and vehicle side connectors for any dirt and corrosion and clean it out. With the trailer connected, use a circuit tester like # 3808 to test the running light wire directly behind the trailer side connector, and at several points leading back to the offending light. If you find any breaks or loose connections, fix as needed.

If the trailer has a lot of running lights on it, it may be too much for the vehicle wiring and the Tow Ready Wiring, # 118431, to handle. In this case you would either need to disconnect the extra lights or use a powered converter like # 119176KIT.
expert reply by: Michael H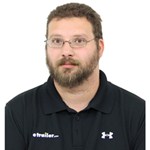 Have a question for the experts? click here.
Products Referenced in This Question
T-One Vehicle Wiring Harness with 4-Pole Flat Trailer Connector





63 reviews
Retail: $60.52
Price: $49.95
DISCONTINUED - Upgraded Circuit Protected Modulite with 4 Pole Harness and Hardwire Kit - Includes T




157 reviews
Retail: $76.92
Price: $66.60
Product Summary:
Trailer Hitch Wiring
Powered Converter
Universal Fit

more information





2 reviews
Retail: $34.41
Price: $24.95
Product Page this Question was Asked From
T-One Vehicle Wiring Harness with 4-Pole Flat Trailer Connector





32 reviews
Retail: $69.84
Price: $54.95
More Answers about Custom Fit Vehicle Wiring