Troubleshooting Roadmaster Even Brake # RM-9400 Detects Low Battery Voltage on a Charged Battery
Question:
I have owned the even brake unit for several years but only used it twice, the most recent this last week. On both occasions, after about 2 hours, with a freshly charged towed vehicle battery, I have gotten the low battery warning. Easy to solve, park, go back and start the towed vehicle engine, drive a while with the vehicle idling, then shut off engine. No further problem, it goes the remaining trip 6 hours without another low battery warning. My questions: 1. Why after only two hours? 2. Should I add a little solar panel to the towed vehicle to keep the voltage up? Thanks
asked by: Dave S
Expert Reply:
There may be some sort of feature on the vehicle that reduces power if it is not running but I would think it would cause the low voltage message again after you have turned the system off again. You may need to connect the Even Brake, # RM-9400, to a different power source and see if that fixes the problem.

The troubleshooting pages in the instructions only state to make sure the red wire on the ICX transmitter is connected to 12 volt power and the white wire is connected to a ground source. You may try moving the ground to the negative battery terminal.

Another option is to run power from the towing vehicle battery to the Even Brake by way of a battery isolator, # TR118665. There are 3 connection points on this unit. One on the side connects to the positive battery terminal on the towing vehicle. The one in the center connects to a 12 volt ignition source. The other side will run out to the Even Brake on the vehicle you are towing.

The way it works is when the towing vehicle is running it sends power back to the Even Brake. When you turn off the towing vehicle it cuts power to the Even Brake. To make connecting and disconnecting easier, you can route the wire from the isolator to Single-Pole, Round Pin Trailer Wiring Socket, # PK11851. On the vehicle side, you can use the Trailer Side Single Pole Connector, # PK11852, and run a wire from it to the Even Brake. These connectors will accept up to 00 gauge wire but you will not need such a heavy gauge. You can use # 10-1-1 wire.

I am not sure if a solar panel will provide enough power. Another issue is low light situations that will make the solar panel ineffective.
expert reply by: Michael H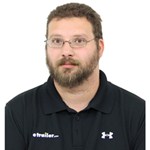 Products Referenced in This Question
10 Gauge Primary Wire - Blue - per Foot




5 reviews
Retail: $0.94
Price: $0.59

Product Summary:
Wiring
Accessories
10 Gauge
1 Wire

Product Specs:
Wire
Single Wire

more information
Pollak Single-Pole, Round Pin Trailer Wiring Socket - Vehicle End
Retail: $35.30
Price: $19.95

Product Summary:
Trailer Connectors
Vehicle End Connector

Product Specs:
Plug Only
1 Round

more information
Pollak Single-Pole, Round Pin Trailer Wiring Connector - Trailer End





1 reviews
Retail: $37.35
Price: $17.95

Product Summary:
Trailer Connectors
Trailer End Connector

Product Specs:
Plug Only
1 Round

more information
Tow Ready Battery Isolation Solenoid





3 reviews
Retail: $19.22
Price: $18.95

Product Page this Question was Asked From
Roadmaster Even Brake Portable Proportional Braking System





1 reviews
Retail: $1,555.60
Price: $1,249.00

Product Summary:
Brake Systems
Proportional System

Product Specs:
Portable System
Recurring Set-Up

more information
More Answers about Tow Bar Braking Systems