What Can Cause Frequent Trailer Tire Blow Outs
Question:
I am having tire blowouts every two trips with my horse trailer.My trailer is 40 feet full living quarters.I need help finding a tire that will not cause this probelm.I have been using 235-85-16 10 ply.Can you hlep with a different ply rating or any help with my problem.
asked by: STEPHEN T
Expert Reply:
A lot of trailer tire blowouts are a result of heat build up that causes the tire to fail. There are several things that can cause too much heat to build up but the main two most likely suspects are overloading the trailer and/or under inflated tires.

The trailer axle capacity should be located on a sticker or plate on the frame. Avoid loading the trailer beyond its capacity and use tires with an appropriate weight carrying capacity. Trailer tires should always be inflated to the maximum psi indicated on the tire for longest life and best performance.

If a tire were under inflated, this would cause excessive heat build up on the side wall. Trailer tires have a thicker side wall to handle the vertical load associated with trailers. While the thicker side wall is able to handle more vertical load, it can also add to heat build up if not properly inflated.

Make sure that the tires you use have ST in front of the size. This indicates Special Trailer. Light truck or passenger vehicle tires should not be used.

In the size 235/85-16, the highest capacity tire we carry is the Karrier Load Range F, # AM10501, that you have referenced. This is a radial tire which would be a benefit if you tow the trailer often. The capacity of this tire is 3,960 pounds at 110 psi, but you want to make sure to stay within the limits of the trailer axle. I have included a link to a tire FAQ article that may be helpful.
expert reply by: Michael H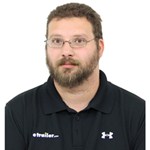 Have a question for the experts? click here.
Product Page this Question was Asked From
Karrier ST235/85R16 Radial Trailer Tire - Load Range F





2 reviews
Price: $208.95

More Answers about Tires and Wheels