Location of Transmission Lines on a 2001 Ford Ranger For addition of a Transmission Cooler
Question:
Where would I find the transmission lines in my 2001 Ford Ranger?
asked by: Dylan
Expert Reply:
One of my co-workers here happens to have a 2001 Ford Ranger with 4.0 Liter engine and automatic transmission, so I went out and checked under the hood. The transmission lines are located at the drivers side radiator tank, see photo, and run down, then across to the passengers side before turning back and running to the transmission. You should check your vehicle because different vehicle accessories or packages and the engine size and drive train may affect the location of the transmission lines.

To install the Derale Series 8000 Plate-Fin Transmission Cooler Kit, item # D13502, you will need to determine which line is the return line. With the engine cold, start the engine and let it run for 10 seconds shifted into drive. Then, shut the engine off and remove the keys. Now, feel both transmission lines, the cooler line of the two will be the return line.

Once the return line is determined you are ready to install the cooler. The 2001 Ford Ranger 4.0, 3.0 and 2.5 liter engines use the Radiator Adapter Fitting, item # D13025. If your truck has the 2.3 liter engine you will need to determine if you need the Radiator Adapter Fittings, item # D13014, which work on several different styles of radiator fittings or the Radiator Adapter Fitting, item # D13018, which has 5/8" inverted flare fittings. If your truck uses 5/16 inch fittings you will use the Insta-Dapt Radiator Adapter, # D13004, that is included with all of the Derale transmission coolers, and use a hose clamp to clamp the hoses from the transmission cooler to the Insta-Dapt fitting and to the OEM return line.

I have also added a drawing showing the recommended installation for the transmission cooler.
expert reply by: Bob G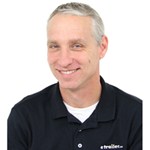 Have a question for the experts? click here.
Products Referenced in This Question
Derale Insta-Dapt Radiator Adapter
Retail: $7.75
Price: $5.99

Derale Radiator Adapter Fittings for Ford and Mercury
Retail: $12.17
Price: $8.99

Derale Radiator Adapter Fittings for GM




8 reviews
Retail: $15.00
Price: $9.99

Derale Radiator Adapter Fittings for Ford, Lincoln and Mercury





2 reviews
Retail: $13.22
Price: $8.99

Product Page this Question was Asked From
Derale Series 8000 Plate-Fin Transmission Cooler Kit w/Barb Inlets - Class III - Efficient




26 reviews
Retail: $93.62
Price: $50.95

Product Summary:
Plate-Fin Cooler
With 11/32 Inch Hose Barb Inlets
Class III

Product Specs:
11W x 7-1/4T x 7/8D Inch
Standard Mount

more information
More Answers about Transmission Coolers