How to Adjust Tension and Clean the Friction Surface on the Draw-Tite Friction Sway Control # 3400
Question:
I have to replace the handle nut on my sway control bar and I am wondering how to adjust both the upper and lower tension bolt/handle? I assume this would be a good time to clean the friction portion of the sway bar, should I completly remove the friction bar wire brush the enitre thing then re-assemble?
asked by: David
Expert Reply:
On the Draw-Tite Friction Sway Control, part # 3400 the handle is an on and off device. The bolt that is located below the handle is for tension adjustment only.

To adjust the tension on the sway control assembly, a series of road tests should be taken with the loaded trailer. Increase or decrease tension by turning the adjusting bolt in 1/4 turn increments in the direction shown on the label until the desired control is achieved.

Now would be a good time to remove the slide bar from the sway control and wire brush the friction surfaces with a wire brush. It is recommended to repeat this cleaning procedure about every 10,000 miles. Also, lubricate both balls on the sway control with a little bit of grease, when reinstalling the slide bar.

If you are using a weight distribution system you should also grease the hitch ball, and weight distribution head where the spring bars attach to help eliminate noise at the hitch.

I am including a link to the installation instructions on the Draw-Tite # 3400 sway control. It will describe how to adjust and maintain the sway control.
expert reply by: Jeff D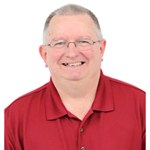 Have a question for the experts? click here.
Product Page this Question was Asked From





7 reviews
Retail: $204.73
Price: $128.95
More Answers about Weight Distribution