Transmission Cooler Recommendations for a 2003 Chevy Trailblazer
Question:
I have the 4.2 2wd non ext model 2003 chevy Trailblazer. Ive been told that a tranny cooler would help out with my transmission temperature rising when I tow my 21 foot boat approx 5000 lb with trailer, fuel, gear, etc. The temp gauge for the tranny begins to rise once I go over 45 and even more if I run the A/C. Is the Derale D13503 the right fit for my truck and what is the best place to mount it? I appreciate your help. Further on down the road, I will probably come back to you guys to get the air shocks and weight distribution hitch. With the economy the way it is, I just cant upgrade to a full size suv right now, so I need to soop the one I have. Thanks
asked by: Gerardo M
Expert Reply:
Whoever told you a transmission cooler would help reduce your transmission cooler temperatures was correct. I would strongly recommend you get the largest one that will fit in front of your radiator.

You will need to take some measurements in front of your radiator to determine which cooler will fit the best for you. This Derale Series 8000 Plate-Fin Transmission Cooler Kit, part # D13503, is 11 inches wide by 8-3/4 inches tall and is 7/8 of an inch in depth.

If you find that you can fit a bigger transmission cooler than that I would recommend that you get a Derale Series 8000 Plate-Fin Transmission Cooler Kit, part # D13504. This cooler is 11 inches in wide, 12 inches tall and 7/8 inches deep.

The best place to mount a cooler is in front of your radiator and ac condenser as this area gets the most airflow. I attached an FAQ page on transmission coolers for you to check out that also goes over cooler mounting locations.

To make installation easier you will also want to get a Derale Radiator Adapter Fittings for GM, part # D13018, as this will allow you to install the cooler without having to cut or flare any metal fluid lines.
expert reply by: Jameson C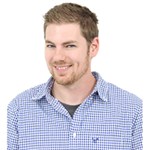 Have a question for the experts? click here.
Products Referenced in This Question
Derale Radiator Adapter Fittings for GM





11 reviews
Retail: $15.00
Price: $9.99
Product Summary:
Transmission Coolers
Accessories

Product Specs:
Radiator Adapters

more information
Derale Series 8000 Plate-Fin Transmission Cooler Kit w/Barb Inlets - Class IV - Efficient




19 reviews
Retail: $116.52
Price: $67.95
Product Summary:
Plate-Fin Cooler
With 11/32 Inch Hose Barb Inlets
Class IV

Product Specs:
11W x 12T x 7/8D Inch
Standard Mount

more information
Product Page this Question was Asked From
Derale Series 8000 Plate-Fin Transmission Cooler Kit w/Barb Inlets - Class III - Efficient





62 reviews
Retail: $102.45
Price: $55.95
Product Summary:
Plate-Fin Cooler
With 11/32 Inch Hose Barb Inlets
Class III

Product Specs:
11W x 8-3/4T x 7/8D Inch
Standard Mount

more information
More Answers about Transmission Coolers