Is There a Way to Run Three Backup Cameras Simultaneously
Question:
The wireless unit that Canadina tire sells is a skew 35-2609-0. Could I use 3 of these units at the same time on the same vechicle to give me for example left side, right side, and rear. Would they interfere with each other? Regards
asked by: Doug M
Expert Reply:
I spoke with my contact at Peak and he informed me that since every Peak Performance Wireless Back-Up Camera, part # PK015737, operates on a radio frequency of 2.4 GHz and that you could not run three cameras at the same time as they all would be competing for the same frequency.

He said that if you only wanted to run one at a time you could maybe come up with a way to have three cameras on switches. That way you could pick which camera you would want to have on by switching on that camera. However, this might prove to be difficult and be more work than you are looking for.

Another option you have is to install three Hopkins Rear View Camera with Backup Sensors, part # HM60195VA, if you wanted to be able to see three different views at once. This camera would because the camera is hardwired to the screen and there would be no interference to worry about.

You would have to get a little creative with the camera as it is mounted to a license plate bracket. But with a little persistence and ingenuity you could find a way.
expert reply by: Jameson C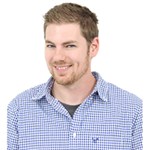 Have a question for the experts? click here.
Products Referenced in This Question
Hopkins Rear View Camera with Backup Sensors - 2-1/2" LCD





13 reviews
Price: $149.95

Product Summary:
Back-Up Camera

Product Specs:
2-1/2 Inch Color Screen

more information
Video/Article/FAQ this Question was Asked From
Article or Video