Trailer Wiring Harness Recommendation for a 2007 Chevy Express Van
Question:
I have the van, a tow button for gearing - nothing else? Do I have plug and play? What do I need buying a travel trailer Wednesday
asked by: Mike
Expert Reply:
First, in order to determine what hiring harness you will need, you will need to know what type of connector the trailer has and if it has electric brakes. Most trailer use either a 4-Way flat, or a 7-Way blade style RV connector. I recommend installing what is called a multi-tow system that includes both.

You will first need to install a 4-Way wiring harness, 118392. This is a simple T-one connector that plugs in line with the vehicle tail lights. I have included a link to the installation details and a video showing a typical installation for you to view.

Next you will need a 4 and 7 Way Installation Kit, # ETBC7. This will provide a 7-Way and retain the 4-Way connector at the back. It also includes all the wiring and circuit breakers to make it fully functional. If the trailer does have electric brakes, this harness also provides all the wiring needed to install a brake controller. I have included links to 2 FAQ articles and a video that explain the installation of an ETBC7 kit. The kit does come with 25 feet of wire, but with such a large van, you may need another 5 or 10 feet of # 10-2-1.

For a brake controller, I recommend the Tekonsha P2, # 90885, because it is easy to set up and easy to use. I have included a link to the installation details for the P2 for you as well.
expert reply by: Michael H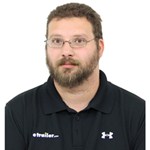 Have a question for the experts? click here.
Products Referenced in This Question
Jacketed 2 Wire, 10 Gauge, Brake Wire - per Foot





52 reviews
Price: $1.21
Product Summary:
Wiring
Accessories
10 Gauge
2 Wire

Product Specs:
Wire
Jacketed Wire

more information
T-One Vehicle Wiring Harness with 4-Pole Flat Trailer Connector





29 reviews
Retail: $27.86
Price: $24.95
Tekonsha Prodigy P2 Trailer Brake Controller - 1 to 4 Axles - Proportional





469 reviews
Retail: $167.24
Price: $124.95
Product Summary:
Proportional Controller
Electric
Electric over Hydraulic
Digital Display
Vehicle Mount

Product Specs:
Automatic Leveling
2 - 8 Brakes
360 Degrees

more information
Universal Installation Kit for Trailer Brake Controller - 7-Way RV and 4-Way Flat - 10 Gauge Wires





283 reviews
Retail: $85.98
Price: $65.73
Product Summary:
Brake Controller
Accessories
2 - 8 Brakes
10 Gauge Wire

Product Specs:
Connector
Brake Controller Wiring
Wired to Brake Controller

more information
Product Page this Question was Asked From
Adapter 4 Pole to 7 Pole Vehicle End Trailer Connector





119 reviews
Retail: $24.48
Price: $17.45
Product Summary:
Wiring Adapters
Single Function Adapter
1 Foot Long

Product Specs:
Plug and Lead
4 Flat
7 Blade

more information
More Answers about Wiring