Thule Raceway 3 vs Raceway Platform Bike Rack for a 2011 Hyundai Elantra
Question:
I just purchased a 2011 Hyundai Elantra and need a bike rack/carrier. I have both a Yakima roof rack and Yakima trailer hitch rack, however, neither of these will work on the Elantra so I need a 3rd rack! I have a small-frame Cannondale and my boyfriend has a Giant bike hes 63 so his bike is much larger than mine. Weve enjoyed having the hitch-rack, so Im considering the Raceway Platform, but am a bit worried about the close spacing of the trays. I would consider the 3, just to space out 2 bikes better. How are the wheels kept from spinning on the 3? thanks for any advice you can give us.
asked by: Sharon
Expert Reply:
Both the Thule Raceway 3 Bike Carrier, item # TH9002, and the Thule Raceway Platform 2 Bike Carrier, item # TH9003, will work great on your 2011 Hyundai Elantra. One thing to keep in mind is not to use the rear wiper with either of these racks attached.

When using a trunk mounted 3 bike rack like the Thule Raceway 3 Bike Carrier, you should keep the weight of the bikes as close to the rear of the vehicle as possible to avoid damage to the vehicle or rack, so you would not want to leave space between the bikes. To combat spinning wheels a simple strap or bungee cord can be used.

The Thule Raceway Platform Carrier, # TH9003, would be my choice for a 2 bike situation. Each wheel base for the bikes is adjustable to accommodated many different sizes of bikes, see video link, and the platform style will keep the bikes from swinging into each other or the rear of the vehicle while keeping the wheels from spinning.

For your small-frame Cannondale, you may need to use the Alternative Frame Bike Adapter Bar, item # TH982XT, if there is not a top cross bar to attach the bike to these bike racks.

I have linked an FAQ on trunk bike racks.
expert reply by: Bob G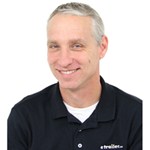 Have a question for the experts? click here.
Products Referenced in This Question
Thule Raceway Platform-Style 2 Bike Carrier - Trunk Mount





8 reviews
Retail: $349.95
Price: $314.95

Product Summary:
Wheel Mount - Anti-Sway
2 Bikes
Platform Rack
Bike and Rack Lock

more information
Thule Bike Adapter Bar for Women's and Alternative Frame Bikes





44 reviews
Retail: $39.95
Price: $35.95

Product Summary:
Hitch Bike Racks
Trunk Bike Racks
Spare Tire Bike Racks
Accessories
16 - 31-1/2 Inch

Product Specs:
Bike Adapter Bar

more information
Product Page this Question was Asked From
Thule Raceway 3 Bike Carrier - Trunk Mount





30 reviews
Retail: $279.95
Price: $251.95

Product Summary:
Frame Mount - Anti-Sway
3 Bikes
Hanging Rack
Bike and Rack Lock

Product Specs:
Dual Arm
Folding

more information
More Answers about Trunk Bike Racks