Installing a 7-Way Trailer Connector on a 2004 Ford F-250 Super Duty
Question:
I am looking for a wire harness to 7 way trailer connector. The truck does not have a trailer connector presently was removed by previous owner. I has a rectangle or square connector female with four large pins and two rows of smaller pins 8 smaller pins in total under the rear end of the chassis. I think the 118243 will work but not sure. Any advice? Thanks
asked by: Bob
Expert Reply:
From your description it sounds as if your 2004 Ford F-250 has the female connector that accepts the connector on the Ford Replacement OEM Tow Package Wiring Harness, # 118243. If your truck is a Super Duty model, not a heavy duty or light duty model, then this harness will most likely work for you. Use a circuit tester, like # 3808, and check the connections in the connector for the proper functions for the 7-way. You will need to check your owners manual to make sure the trailer tow electric brake and trailer tow battery charge fuses and relays, including the backup lamp relay, are in their locations before checking the connector for those functions. I added a photo of the female connection that you should have on your truck to work with the # 118243 harness.

If the connector is not the same as the connector pictured, a replacement 7-Way harness is not available for your 2004 Ford F-250, but what you can do is hardwire a new plug and harness. For the harness, you can use 4 Foot Pigtail Wiring Harness, # PK11998, and hardwire it to the wiring under the truck.

The functions of this harness are as follows:

Red - Left Turn and Stop
White - Ground
Blue - Electric Brakes
Green - Right Turn and Stop
Black - Battery
Brown - Running Lamps
Yellow - Backup Lamps

Use a circuit tester, like # 3808, to find the matching functions on the truck wiring. After the harness is installed, you can use Replacement Multi-Tow 7-Way and 4 Pole Trailer Connector, # 20119, or HM40975. These just plug into the other end of the harness and come with a mounting bracket.
expert reply by: Michael H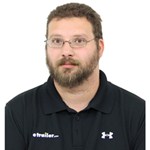 Have a question for the experts? click here.
Products Referenced in This Question
Replacement Multi-Tow 7-Way & 4 Pole Trailer Connector





4 reviews
Retail: $41.90
Price: $32.95

Product Summary:
Trailer Hitch Wiring
No Converter
Custom Fit

Product Specs:
7 Blade
4 Flat

more information





2 reviews
Retail: $34.41
Price: $24.95

Pollak 7- and 4-Pole Trailer Connector Socket w/ Mounting Bracket - Vehicle End





138 reviews
Price: $29.95

Product Summary:
Trailer Hitch Wiring
No Converter
Custom Fit

Product Specs:
7 Blade
4 Flat

more information
4' Pigtail Wiring Harness for Pollak Replacement 7-Pole RV Socket





19 reviews
Retail: $30.93
Price: $17.95

Product Summary:
Wiring
Replacement Parts
Universal

Product Specs:
7 Blade
Vehicle Wiring Harness

more information
Product Page this Question was Asked From
Ford Replacement OEM Tow Package Wiring Harness, 7-Way (Super Duty)





47 reviews
Retail: $65.16
Price: $54.95

More Answers about Custom Fit Vehicle Wiring