Troubleshooting Ground Wire attachment on a Trailer for the Sealed Oval Trailer Lights # ST70RB
Question:
Im having some trailer light problems which I believe are all ground related after reading your articles and such. I have the oval sealed beam lights and based on the pigtails that are accessories, the ground from each light is local for each light? Im not at my trailer right now, but Ill bet I have corroded out connections at those grounds. Anything I need to do special to drill some fresh holes in the trailer? Or do I need to splice and run common grounds to the front of the trailer? I know, the more I type, the dumber I sound.
asked by: Tom C
Expert Reply:
If your inclination is that you are having ground issues then you most likely do. Ground problems are the most common problem with trailer wiring.

I would recommend grounding the white wire on the 3-Wire Pigtail, item # A45PB, to the trailer frame. If the mounting location for the # ST70RB Oval Trailer Stop, Turn and Tail Light, is not welded to the trailer frame I would recommend attaching the white wire directly to the trailer frame rather than a bolted or riveted on mounting bracket.

When drilling there is not much you can do on a steel frame to keep corrosion from happening, some dielectric grease, item # 11755 smeared on each ground locations periodically will prolong the integrity of the connection. Make sure that you use a piece of sand paper, file or small grinder to clean the paint primer and rust from the area around each hole drilled for the ground wire connections.

Running the ground wires, item # DW02359-1, all of the way to the front of the trailer and connecting to the ground wire from the trailer is another solution, but wire is costly, the length of wire is more susceptible to damage and all of the splices could be suspect if there is a problem in the future. I would just make sure that the ground wire from the trailer connector is connected to the frame in the manner mentioned above.

If, when you get to your trailer, you find that there are other issues, let me know what you find, I will be glad to help.
expert reply by: Bob G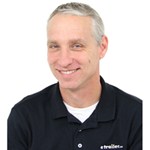 Have a question for the experts? click here.
Products Referenced in This Question
Dielectric Grease for Electrical Connectors, 2 oz.





62 reviews
Price: $9.99
Product Summary:
Wiring
Accessories

Product Specs:
Dielectric Grease

more information
Straight 3-Wire Pigtail for Sealed Trailer Stop, Turn and Tail Lights





34 reviews
Price: $0.95
Product Summary:
Trailer Lights
Replacement Parts

Product Specs:
Mount Parts
Light Plugs

more information
Primary Wire - 16-Gauge - White - per Foot





2 reviews
Retail: $0.13
Price: $0.13
Product Page this Question was Asked From
Sealed, 6-1/2" Oval Trailer Stop, Turn and Tail Light, 3-Function





140 reviews
Retail: $9.95
Price: $5.25
Product Summary:
Tail Lights
Submersible Lights
Red
Flush Mount

Product Specs:
Oval
Incandescent Light
6-1/2L x 2-1/4W Inch

more information
More Answers about Trailer Lights