Troubleshooting No 12 Volt Power at 7-Way Trailer Connector on a 2009 Chevy or GM Duramax Pickup
Question:
no power to 12v battery lead at 7way. Fuse is good, both wires hooked up red w/black no voltage at harness connector at rear.
asked by: Mike C
Expert Reply:
I would first test the 12 volt wire hooked up to the RV-Style Trailer Connector, # PK11916, to see if the wire itself is carrying power. If it is, then there is something wrong inside the connector such as a loose connection or its wired to the wrong pin.

If no power is on the wire, then I would check the other wiring to make sure you have the correct wire. If you are still not getting 12 volt power then you know something is wrong between the wiring at the rear of the truck and where it terminates under the hood.

It could also be something much more simple. Under the hood, you mentioned that the fuse is good. But, it is entirely possible that the wire for the 12 volt power to the 7-Way is not connected or they are connected in the wrong locations. The ring terminal for the 12-volt power lead for the 7-way trailer connector is located to the left of the power distribution box. It is taped to a wire harness under the power brake booster. Cut the tape to release it from the harness. Then run the wire to the front of the power distribution box and hook the ring on the right post (M8 stud).
expert reply by: Michael H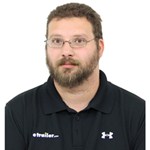 Product Page this Question was Asked From
Twist-in, 7-Pole, RV-Style Trailer Connector for Chevy and GMC Vehicles - Vehicle End





199 reviews
Retail: $19.47
Price: $14.99

More Answers about Custom Fit Vehicle Wiring